Roasted Sweet Potato Salad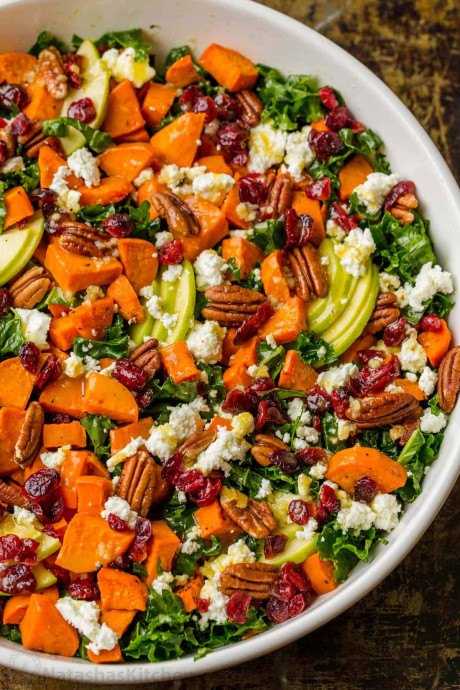 This Roasted Sweet Potato Salad has all the best flavors of Fall wrapped in one delicious salad. It's loaded with kale, creamy sweet potatoes, crisp apple, and crunchy pecans with the best maple vinaigrette dressing. Watch the video tutorial and you'll be craving it.
A platter of Kale Sweet Potato Salad looks stunning on the Thanksgiving table, but it's also a satisfying dinner salad and you can roast the sweet potatoes ahead to meal prep. The best part? Leftover kale salad keeps really well.
Feel-good recipe – this salad is packed with so many healthy greens and veggies, plus sweet potatoes are high in fiber, Vitamin A and Vitamin C. It's a hearty and satisfying salad and feels like a meal in itself.
Make-Ahead – you can roast the sweet potatoes a day ahead and pre-chop your lettuce. Store both in the refrigerator until ready to use.
Leftovers keep well – don't toss the leftover salad. Unlike regular green leafy salads (like remain, spinach, or arugula), a kale salad doesn't get soggy after adding the dressing. Refrigerated leftovers taste great the next day.
The best dressing – you'll love the combination of flavors in this maple vinaigrette. It has a short list of ingredients and is simple to make; just whisk or shake it up in a mason jar and you're set.
Ingredients:
For the Roasted Sweet Potatoes:
1 1/2 lbs sweet potatoes, (2 medium or 3 smaller sweet potatoes)
1 Tbsp olive oil
1/2 Tbsp maple syrup
1/2 tsp sea salt
1/4 tsp black pepper
For the Salad:
1 bunch kale, (10 cups chopped)
1 apple, thinly sliced
1/2 cup pecans, lightly toasted if desired
1/2 cup dried cranberries, or pomegranate seeds
2 oz goat cheese, (1/2 cup crumbled)
Dressing Ingredients:
3 Tbsp apple cider vinegar
1 Tbsp maple syrup
1 Tbsp dijon
1 garlic clove, finely minced or pressed
1/3 cup extra virgin olive oil
1/2 tsp fine sea salt
1/8 tsp black pepper, freshly ground