Blueberry Corn Salad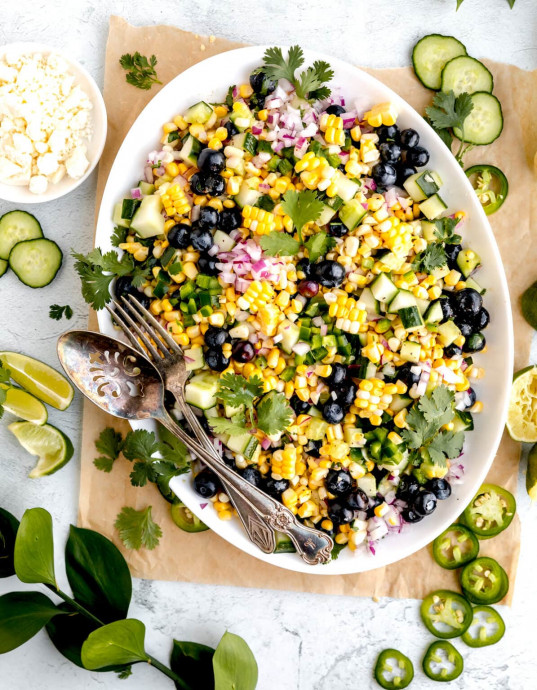 Blueberry Corn Salad – this light and refreshing summer salad is made with juicy blueberries, fresh sweet corn, cucumbers, cilantro, jalapeño, red onion, and a simple honey lime dressing. It is a great side dish to any summer meal. At the market, I picked up blueberries and sweet corn because they looked so good. I made one of my favorite simple summer salads for dinner – Blueberry Corn Salad. You guys have to try this fresh corn salad recipe. It is a summer favorite for sure! You might think adding blueberries to a corn salad is a little odd, but I promise you the blueberries make such a lovely addition. They are sweet, juicy, and I love the pop of blue!
This salad is light and refreshing. I love the pop of color and juiciness the blueberries add to the corn salad. The cucumbers also add a nice crunch. This fresh corn salad is full of flavor thanks to the cilantro, jalapeño, red onion, and honey lime dressing.
Pro tip, you don't need to cook the sweet corn. Remove the corn kernels from the cob with a sharp knife and add the corn to the salad raw. It is juicy, sweet, and SO good!
If you can't find fresh corn, you can use frozen or drained canned corn, but fresh really is best for this corn salad recipe. When corn is in season, I make this salad all of the time! I can't get enough!
If you want to add avocado, go for it. Avocado is always a good idea:) You can also add crumbled feta cheese, goat cheese, or queso fresco. And if you don't care for cilantro, you can use chives or fresh basil.
Ingredients
4 cups fresh sweet corn (4 large ears sweet corn, kernels removed)
2 cups fresh blueberries
1 seedless cucumber, diced
1/3 cup finely chopped red onion
1/3 cup chopped fresh cilantro
1 jalapeno pepper, seeded and finely chopped
2 tablespoons olive oil
2 tablespoons lime juice
1 tablespoon honey
1/2 teaspoon ground cumin
Kosher salt and black pepper, to taste