Instant Pot Goulash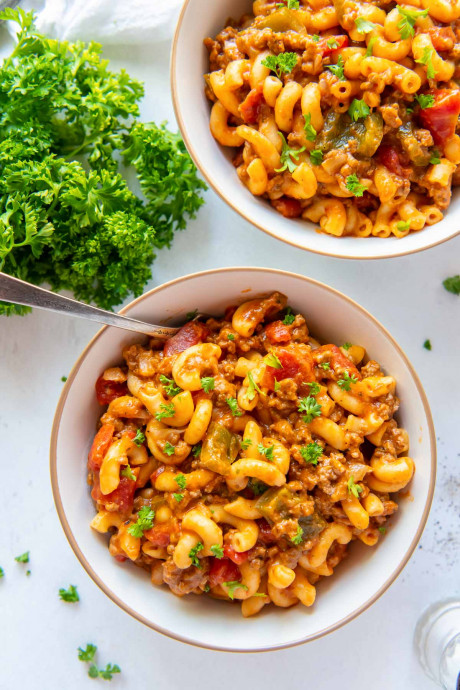 Instant Pot Goulash is an easy one pot meal made with ground beef, macaroni pasta and cheese in a flavorful tomato-based sauce. It's the perfect comfort food dinner for a weeknight!
When I need an easy recipe for getting dinner on the table fast, I often turn to my Instant Pot. Some of my family's favorite meals are Instant Pot pasta recipes, including Instant Pot Spaghetti, Instant Pot Mac and Cheese, Instant Pot Taco Pasta and Instant Pot Pasta with Sausage.
We've now added this Instant Pot goulash recipe to our list of favorite Instant Pot recipes! It's quick to prep, full of hearty flavors, and you'll only have one pot to wash after dinner. Plus there's pasta, ground beef and cheese, a family-friendly trio that makes this meal budget-friendly as well.
This Instant Pot goulash is one of our favorite Instant Pot ground beef recipes, and one that you'll want to have in your back pocket. I like to serve it with a Green Salad or Roasted Broccoli, plus Garlic Knots or garlic bread.
Ingredients:
1 pound ground beef
1 cup finely chopped yellow onion
3 cloves garlic (minced)
1 bell pepper (chopped)
1 ¾ cups low sodium beef broth (or chicken broth, equal to a 14.5 ounce can)
1 tablespoon Italian seasoning
1 tablespoon Worcestershire sauce
½ teaspoon garlic powder
½ teaspoon salt (or to taste)
¼ teaspoon pepper (or to taste)
2 cups elbow macaroni pasta (uncooked, 9 ounces by weight)
30 ounces canned diced tomatoes
15 ounces canned tomato sauce
1 ½ cups shredded cheddar cheese
chopped fresh parsley (optional, for serving)