Fluffy Cinnamon Ripple Muffins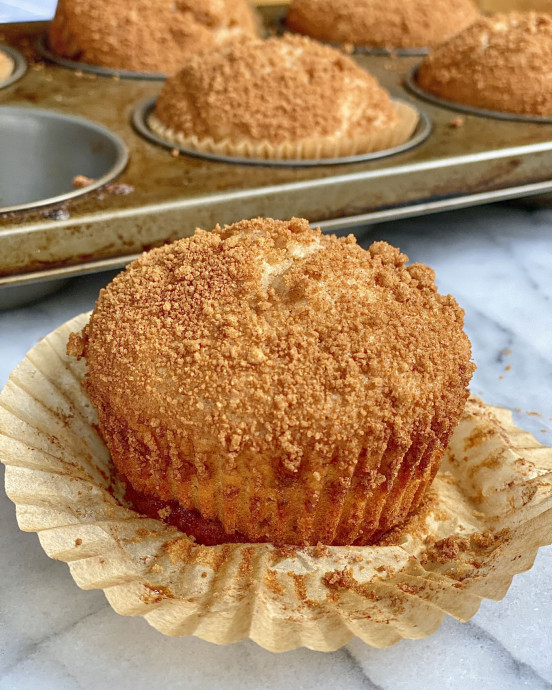 If you're someone who loves all things cinnamon, these muffins were made for you. They bake up soft and fluffy, and pack in not one or two, but three doses of cinnamon. You'll find it mixed into the batter, as a cinnamon-sugar blanket over top, and a cinnamon and brown sugar ripple through the center of the muffin. Best of all, they're easy to make and there's a good chance you already have everything you need to make them. Ready to get baking?
There are a couple of simple tips that will ensure a batch of fluffy muffins every time. First, you'll need a leavener, like baking powder or baking soda, to make the muffins rise and give them that beautiful domed top we all crave. This recipe relies on a couple teaspoons of baking powder, and to get the full effect you'll want to make sure it's not expired (there's an easy way to test it, if you're not sure)
Secondly, be sure not to overmix the batter. As a rule of thumb with any muffin recipe, mix the batter just until combined and no visible streaks of flour remain. With a brown sugar and cinnamon ripple through the center, plus a sprinkle on top, these muffins are amazing as is, but if you're in the mood for something a little extra, try one of these add-ins.
Chocolate chips (1/2 cup regular or mini)
Toasted nuts (1/2 cup)
1 peeled and diced tart apple, like Granny Smith
1 peeled and diced pear
Ingredients:
Paper muffin liners or cooking spray
1 cup packed light brown sugar, divided
4 teaspoons ground cinnamon, divided
1 cup whole or 2% milk
2 cups all-purpose flour
2 teaspoons baking powder
1/2 teaspoon kosher salt
1/4 teaspoon ground nutmeg
1/2 cup canola oil
2 large eggs
1 teaspoon vanilla extract