Fettuccine Paglia E Fieno Alla Carbonara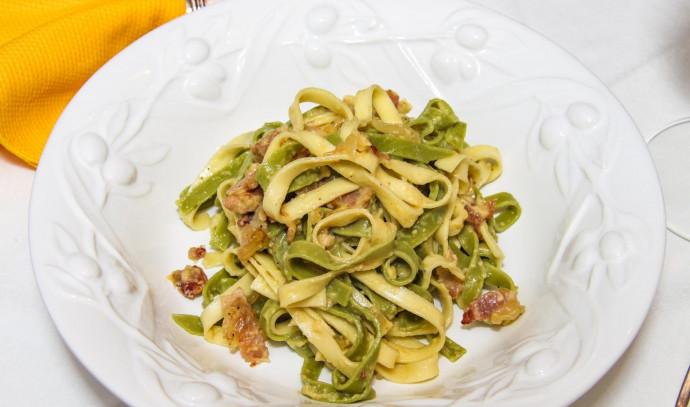 If there was a simple word to describe this dish, "fantastic" would be it. Fettuccine is one of our most favorite pasta. Wider than your typical spaghetti, but time ten in flavor. Fresh or dry, they are always a treat. One of the best parts is that you can prepare fettuccine with almost any, if not, all sauces.
This refers to the green, spinach pasta as hay, and the yellow, egg pasta as straw.
Traditionally this Italian pasta originates from Siena, which is part of the Tuscany region, more precisely is located in the central part of Italy.
The commingling of the green and cream fettuccine pasta gives a beautiful aesthetic appeal. Easy to identify at the store, one by the color of the pasta, and secondly, as it presented in the shape of little nests.
Those little nests usually cook rather quickly.
If they are hard to find, of course, you can use regular egg fettuccine.
Ingredients:
12 onces fettuccine paglia e fieno
1/2 yellow onion, or medium, chopped in small pieced
1 tablespoon olive oil
6 to 8 ounces bacon sliced in 1/4 inch strips
1/2 cup white wine
2 eggs
3 tablespoons finely greated Parmiggiano Reggiano