Fresh Creamed Spinach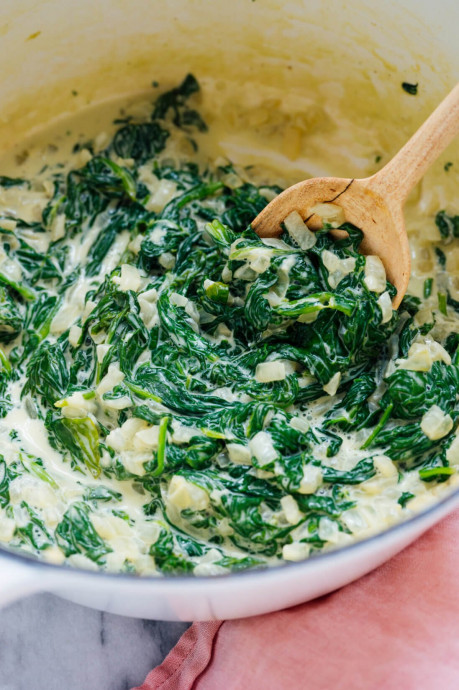 Creamed spinach can go right or wrong, and this creamed spinach recipe is just right. The creaminess comes from cream cheese rather than heavy cream, which offers some delectable tanginess. Fresh baby spinach cooks down in mere minutes, no chopping required, so this recipe is ready in roughly twenty minutes.
Creamed spinach will never be the prettiest menu item on your Thanksgiving table, but the verdant color of freshly cooked spinach will liven up otherwise beige plates. The more greens the better, I say. Creamed spinach is easy to make with basic ingredients, yet the end result tastes like more than the sum of its parts. It's rich and creamy but not over the top.
Ingredients:
2 tablespoons unsalted butter
1 medium yellow onion, finely chopped
½ teaspoon fine salt
Freshly ground black pepper
Tiny pinch of cayenne pepper (optional, for subtle heat)
16 ounces baby spinach
4 cloves garlic, pressed or minced
4 ounces cream cheese, cut into 1-inch chunks
¼ cup freshly grated Parmesan cheese