The Best Spinach Lasagna Recipe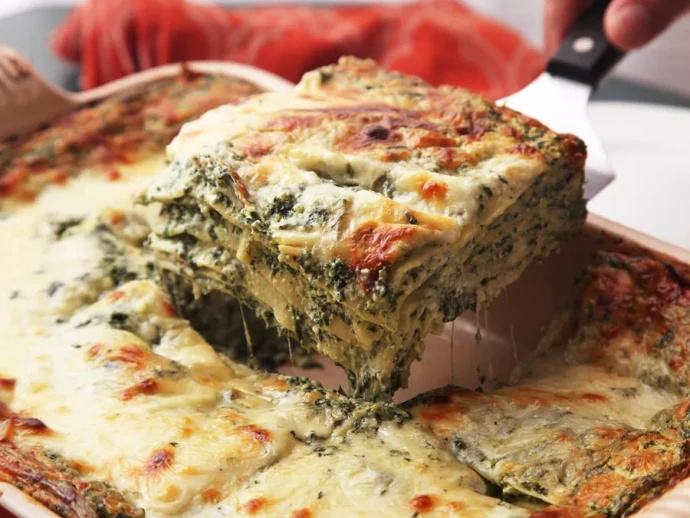 This is a spinach lasagna, so we want that spinach flavor front and center. I've tried a few different types of spinach over the years including frozen, fresh flat leaf, curly leaf, and baby, and I find that you get the best flavor and texture with fresh flat or curly leafed spinach. They don't have the pulpy, mushy texture of cooked baby spinach (plus they're cheaper), and they have significantly better flavor than frozen spinach, which can taste muddy and occasionally has fibrous stalks included.
Microwaving it in a bowl is a little better, but doesn't offer you the opportunity to buttress its flavor with some aromatics.
The best method? Sautéing. I start by sweating some shallots and garlic in a mixture of butter and olive oil (for superior flavor), then adding in the spinach a few handfuls at a time until it's fully wilted. From there I let it cook down, letting any juices that are expelled reduce until the pan looks completely dry.
Sautéing the spinach instead of blanching or microwaving it improves flavor, while chopping allows you to evenly incorporate it into every bite.
A mixture of smoothly processed ricotta and ricotta that hasn't been in the food processor gives the lasagna a creamy flavor while still maintaining the classic small curds of ricotta in the finished dish.
Stacks and stacks of fresh pasta make this dish about the pasta, not just the fillings.
Ingredients:
For the Spinach:
2 tablespoons butter, divided
2 tablespoons extra virgin olive oil
1 shallot, finely minced (about 1/2 cup)
6 medium garlic cloves, minced (about 2 tablespoons)
Kosher salt and freshly ground black pepper
2 pounds fresh flat or curly spinach leaves, washed and dried
For the Ricotta:
2 pounds fresh ricotta cheese(see note)
2 large eggs
4 ounces finely grated Parmigiano Reggiano cheese
1 teaspoon freshly grated nutmeg
For the White Sauce:
4 tablespoons butter
1/4 cup flour
1 quart (4 cups) whole milk
12 ounces grated low moisture mozzarella cheese
12 ounces grated Comté, Gruyère, or Emmentaler cheese
For Assembly:
1 1/2 pounds (enough sheets to make 12 layers) fresh lasagna noodles