The Best Chocolate Chip Cookies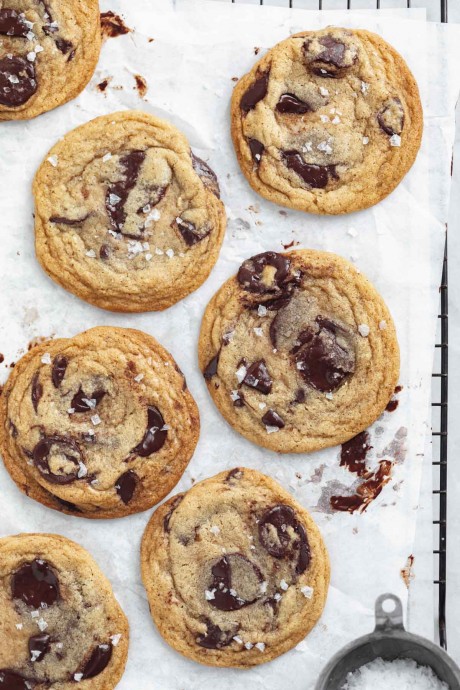 Your search for the best chocolate chip cookies ends here. This chewy chocolate chip cookie recipe is made with browned butter and huge chunks of chocolate for the perfect, crunchy on the outside, gooey in the middle cookie of your dreams. Pair one of these bad boys with a glass of cold milk for the best cookies and milk of your life!
These cookies are soft, chewy, crunchy on the edges, perfectly salty-sweet, loaded with juuuust the right amount of chocolate. And when you create something that perfect, it would be a true crime to not share it with the world.
These chewy chocolate chip cookies are best freshly baked. These are not the cookies I would recommend sending in the mail to a friend, or baking a few days before the party you're bringing them to. They will last in a sealed container for 3 days, but definitely start tasting a little stale after day 2. If you want to prep ahead, make the dough in advance and scoop out balls of cookie dough. Place the cookie dough in a freezer plastic bag and freeze the cookie dough for up to 3 months for whenever you want fresh baked cookies!
Ingredients:
3/4 cup unsalted butter
1 cup brown sugar, packed
1/4 cup granulated sugar
1 egg + 1 egg yolk, room temperature
1 tablespoon vanilla extract
1 3/4 cup all purpose flour
3/4 teaspoon baking soda
1 teaspoon sea salt + more for sprinkling
2 cups semi sweet chocolate, chopped