Homemade Chicken Nuggets With Sweet 'n' Sour Sauce Recipe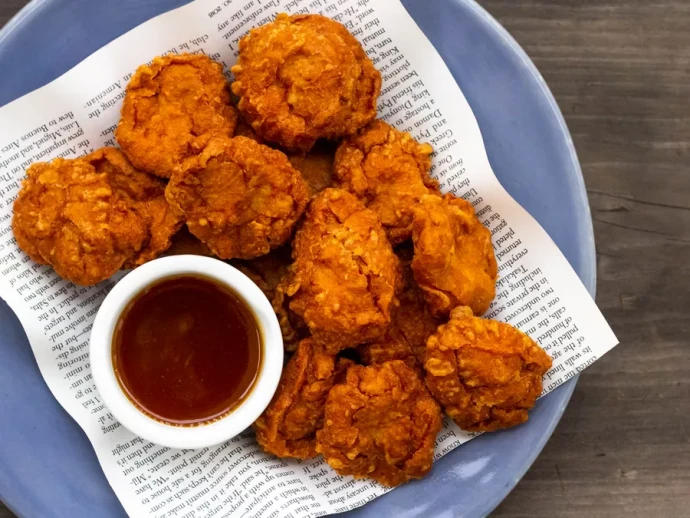 Chicken thighs allow for extended cooking time, while still producing juicier, more flavorful meat. Chicken broth powder provides essential taste, and white pepper gives that defining flavor of the real deal. Dredging the nuggets in a flour mixture before battering ensures the nuggets are evenly coated and produces a more substantial crust. A small amount of cornstarch ensures a crispier nugget. Baking powder makes the crust a little lighter. Double frying ensures a crisp and long-lasting exterior by driving off excess moisture.
McNugget clones wouldn't be complete without a sauce. I'm more of a sweet 'n' sour guy myself, so I went in that direction. Apricot jam and white vinegar are key ingredients, as well as a few sneaky dashes of soy sauce and yellow mustard for color and spicy tang.
Ingredients:
1 pound (450g) boneless, skinless chicken thighs, cut into 1-inch pieces
1 teaspoon (5g) Diamond Crystal kosher salt; for table salt, use about half as much by volume or the same weight
1 teaspoon (3g) chicken-flavored broth powder, such as Orrington Farms
1/2 teaspoon finely ground white pepper
1/2 teaspoon garlic powder
1/2 teaspoon onion powder
Neutral oil such as canola or nonstick cooking spray, for greasing
For the Sauce:
1/2 cup (160g) apricot jam or preserves
2 tablespoons (40g) corn syrup
2 tablespoons (30ml) water
5 teaspoons (25ml) distilled white vinegar
1 1/2 teaspoons (4g) cornstarch
1 teaspoon (3g) chicken-flavored broth powder, such as Orrington Farms
1/2 teaspoon (3ml) soy sauce
1/2 teaspoon (3g) yellow mustard
1/8 teaspoon cayenne pepper
1/8 teaspoon garlic powder
1/8 teaspoon finely ground white pepper
To Coat and Fry:
1/2 cup (2.5 ounces; 70g) all-purpose flour
2 tablespoons (16g) cornstarch
1 teaspoon (3g) chicken-flavored broth powder, such as Orrington Farms
1/2 teaspoon (1.5g) baking powder
1/2 teaspoon finely ground white pepper
3/4 cup (180ml) water
4 cups (950ml) vegetable oil, for frying