Turkey Meatballs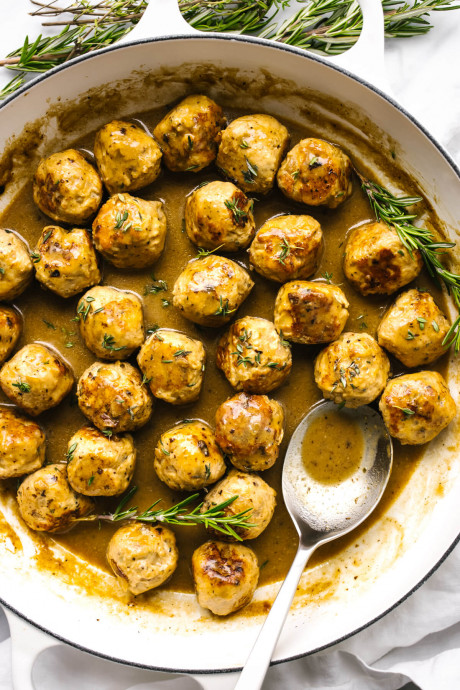 These turkey meatballs are seriously the best! They're garlicky, herby, and simmered in a heavenly maple mustard sauce for a soon-to-be favorite weeknight dinner. What is there not to love about meatballs? They pack a ton of flavor in one single bite, are so easy to make, and are extremely meal prep friendly. My baked tuna meatballs are a spring/summer go-to. But when fall/winter hits – it's all about these turkey meatballs.
They're infused with fresh rosemary and thyme, and when they do a little swim in that sweet mustardy sauce they become highly addictive. Bonus – they're a leaner meat, so they'll fill you up without weighing you down.This truly is an easy meatball recipe with a delicious sauce that makes it taste like a million bucks. I love to serve these over rice with a side of roasted vegetables. But there's endless ways to eat these turkey meatballs.
Make it a savory zoodle dish by layering a big spoonful over fresh zucchini noodles.
You can't ever go wrong with a vegetable mash plus saucy meatballs! Think classic mashed potatoes or a mashed cauliflower.
Besides dinner or lunch, make these the star appetizer at your next get together! Just serve them up with toothpicks.
Ingredients:
FOR THE MEATBALLS
1½ pound ground turkey
1 large egg, lightly beaten
½ onion, finely chopped
¼ cup almond flour
4 garlic cloves, minced
1 ½ teaspoons finely chopped fresh rosemary
1 ½ teaspoons finely chopped fresh thyme
1 teaspoon kosher salt
½ teaspoon freshly ground black pepper
3 tablespoons extra-virgin olive oil
FOR THE SAUCE
1 cup chicken broth
¼ cup Dijon mustard
¼ cup maple syrup
2 tablespoons mayonnaise
extra fresh rosemary and thyme for garnish