Cauliflower Fritters with Mint & Pea Spread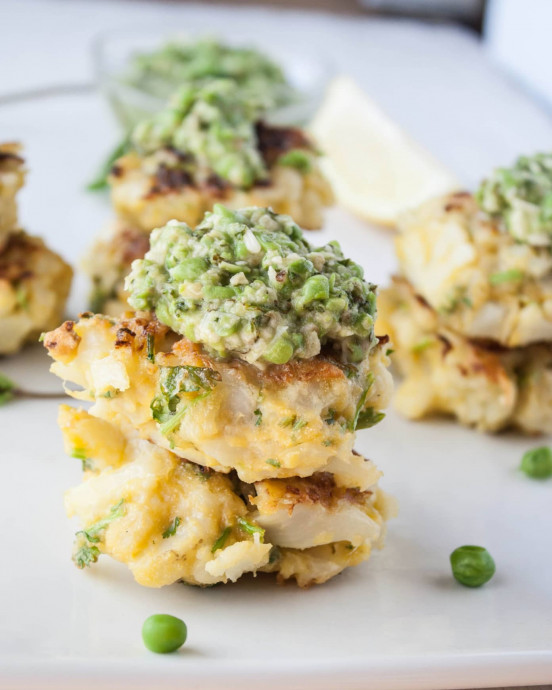 This recipe makes me want to change out of my farm clothes, put on a dress, and head to a dinner party armed with a batch of these fritters. Unfortunately, that's not going to happen anytime soon since our organic farm is in full swing for the season and our free time is rare.
What I love about these fritters is that they highlight some of the season's best flavor combinations, plus they are gluten free! Mint and peas have always been a favorite of mine, and they pair perfectly with these crispy cauliflower fritters. If you can refrain from eating the entire spread with a spoon, you will likely have leftovers — they taste great on crusty bread, pasta, or even roasted potatoes. Go wild!
Food like this tastes best with good friends and your favorite beverage. Cheers.
Ingredients:
For the spread:
2 cups peas, blanched if fresh or thawed if frozen
1/4 cup mint leaves, finely chopped
2 cloves garlic, minced
1/4 cup walnuts, chopped
1/4 cup Parmesan cheese, shredded
1 1/2 tablespoons fresh lemon juice
1/4 teaspoon crushed red pepper flakes
1/2 teaspoon fine sea salt
1/3 cup extra-virgin olive oil, plus more to thin if necessary
For the fritters:
1 small head cauliflower, cut into florets (about 2 1/2 cups)
1/2 cup chickpea flour
1/4 cup grated Parmesan cheese
2 scallions, white and green parts, thinly sliced
1 large egg, lightly beaten
1/2 teaspoon salt
2 to 3 tablespoons grapeseed oil for frying