Prosciutto-Wrapped Avocado with Goat Cheese and Arugula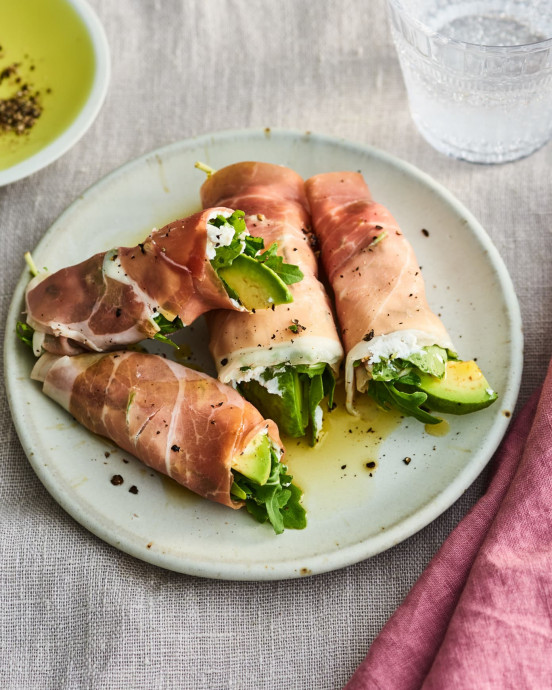 In all of their retro glory, ham, cream cheese, and pickle roll-ups hit all the right notes of savory, salty, creamy, and tangy. But it's about time we update that classic party appetizer. Here, salty strips of prosciutto and lemony goat cheese are rolled around creamy avocado slices and peppery arugula for an appetizer that few can resist.
The key to these roll-ups is starting with a perfectly ripe avocado. Pluck the stem: If it's green underneath, the fruit is ready to serve. If it's brown, the avocado is past its prime. Struggling to remove the stem? That's the sign of an underripe avocado.
A ripe avocado will also yield slightly to pressure when pressed at the poles. Don't squeeze around the equator, as that will lead to bruises and brown spots.
The surest way to keep breadsticks at bay when you're following the keto diet is to make the most utterly appealing appetizer (or lunch!). These prosciutto and avocado roll-ups are the ideal finger food to serve on a snack board or to pack in your lunch, and with just 5.3 net carbs per serving, you'll easily be able to keep your macros in check.
Ingredients:
4 ounces fresh goat cheese
2 tablespoons freshly squeezed lemon juice (from 1 lemon)
1/2 teaspoon freshly ground black pepper
1/4 teaspoon kosher salt
8 thin slices prosciutto (4 ounces)
1 1/2 cups arugula
2 ripe medium avocados, thinly sliced