Mediterranean Ground Beef Stir Fry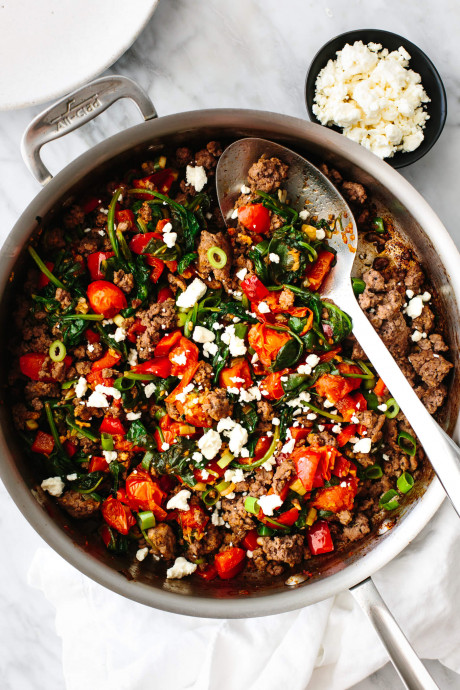 This Mediterranean ground beef stir fry is what a quick and healthy dinner is all about! It's loaded with savory veggies, classic coastal seasonings, and packs in a ton of flavor without the need for a sauce.
I hummed and hawed on what to call this recipe as ground beef is not typically what you'd consider mediterranean food. But the blistered tomatoes, bell pepper, baby spinach, green onion, and garlic are most definitely Mediterranean in nature. So consider it a healthier, veggie-packed ground beef stir fry that's light in flavor. A divergence from your typical Asian chicken stir fry flavors, yet delicious in a whole new way!
And speaking of flavors and sauces, there's actually no sauce in this recipe. Once the tomatoes break down they become oozy and liquidy, and that melds with the garlic and oregano and douses the rest of the ingredients in garlicky, Mediterranean goodness. You're gonna love it.
Ingredients:
1 tablespoon olive oil
1 red bell pepper, deseeded and diced
1 pint cherry tomatoes, sliced in half
8 ounces baby spinach (small tub)
4 garlic cloves, minced
2 green onion, thinly sliced, white and green parts separated
1 pound ground beef
½ teaspoon dried oregano
kosher salt and freshly ground black pepper, to taste
2 tablespoons crumbled feta