Creamy Chicken Romano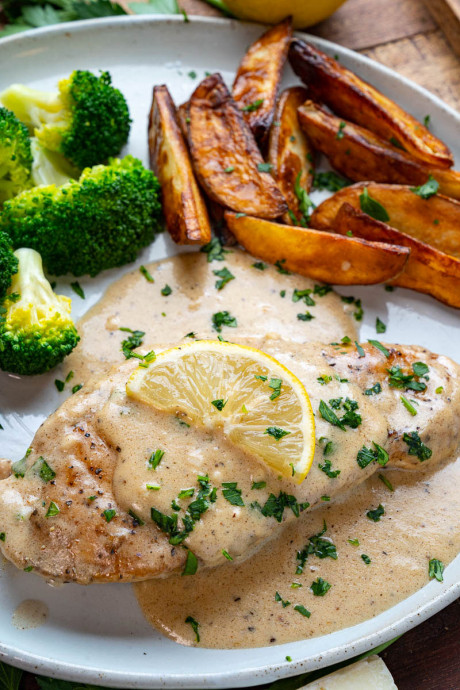 Pan seared chicken in a light and creamy sauce with plenty of romano cheese!
Todays recipe is a quick and easy skillet chicken in a tasty pan sauce seasoned with plenty of pecorino romano cheese! Skillet chicken is one of my favourite one pan meals and the basic method is to sear the chicken in a pan and then to make a sauce in the same pan. You want to use thinly cut chicken so that it cooks through relatively quickly at a higher temperature and the key to a tasty pan sauce is to deglaze the pan to scrape up any brown bits left on the bottom of the pan after cooking the chicken; these bits are just packed with flavour! In this recipe the sauce is made with the combination of broth and cream along with garlic and plenty of romano cheese. I like to finish the sauce off with splash of lemon juice and fresh parsley for some brightness. This creamy chicken romano makes for a simple meal when served on top of rice, or pasta, mashed potatoes etc. along with a steamed vegetable.
One of the amazing things about this recipe is that it's so easy to change it up! You can easily add extra flavours like sun dried tomatoes, olives, roasted red peppers, spinach, mushrooms, artichoke hearts, etc. Another quick change that can be made is to use a different cheese such as parmesan, asiago, grana padano, etc.
Ingredients:
1 tablespoon oil
1 pound chicken breasts (boneless and skinless), pounded thin or butterflied
salt and pepper to taste
2 cloves garlic, chopped
1 cup chicken broth
1/2 cup heavy/whipping cream
1/2 cup pecorino romano cheese, grated
1 tablespoon lemon juice (optional)
salt and pepper to taste
1 teaspoon parsley, chopped (optional)