Ricotta Gnocchi with Herby Mushrooms and Sage Browned Butter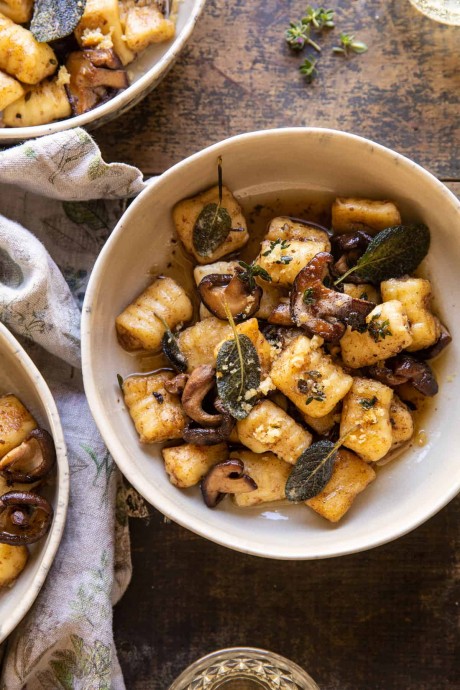 First, this gnocchi recipe is easier than you'd think and worth any extra time spent in the kitchen. Trust me on this. Second, to sum this up real quick, you're basically just mixing ricotta cheese with flour, parmesan, and eggs. Yes, this gnocchi has just four ingredients. And while it takes some hands-on time, it's really fairly simple to make. For whatever reason, gnocchi gets a bad rap for being difficult. But it's actually simple and always so much better when made at home.
The dough comes together in no time. No fancy tools, no fancy rolling method. Just keeping it simple. Caramelized mushrooms, browned butter, garlic, thyme, and crispy sage. Just five ingredients, but when put together they create a rich, warming butter sauce that pairs so well with the light and airy gnocchi.
These gnocchi are extra soft and pillowy with light ricotta cheese and salty, nutty parmesan. They are tossed in an addicting nutty browned butter sauce with golden mushrooms and thyme, and topped with crispy, fried sage. Every last bite is mouth-watering, that's really all you need to know. Make this tonight, this weekend, or just sometime soon. It's a delicious bowl of some really good homemade gnocchi with lots buttery sauce.
Ingredients:
2 tablespoons extra virgin olive oil
2 cloves garlic, smashed
1 cup finely torn sourdough bread
1/3 cup grated Asiago cheese
16 ounces whole milk ricotta cheese
1 egg
3/4-1 cup all-purpose flour
1 cup grated parmesan cheese
kosher salt and black pepper
2 tablespoons extra virgin olive oil
4 cups mixed mushrooms, roughly torn or sliced
1 clove garlic, smashed
6 tablespoons salted butter
2 tablespoons fresh thyme leaves
8 leaves fresh chopped sage