Jammy Fruit Bars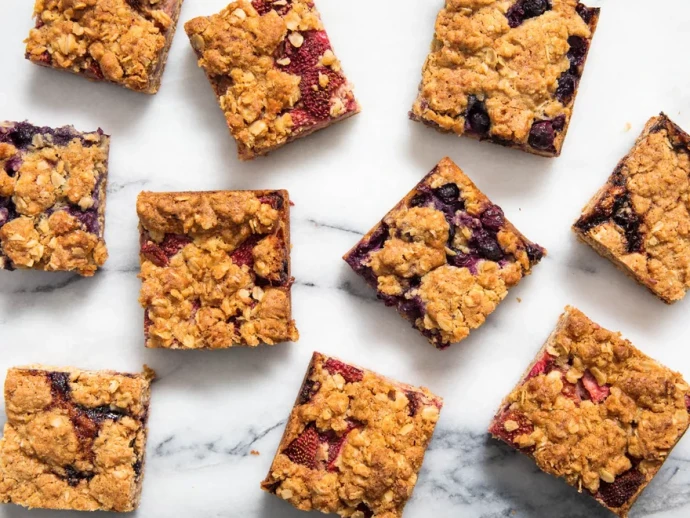 A quick and easy bar cookie made with brown sugar, rolled oats, and your favorite fresh fruit or jam. This simple recipe even comes together by hand, so there's no need to get your mixer dirty.
These bar cookies are no exception, although you don't have to have fond memories of Icelandic dessert to appreciate them. They're rich and hearty, loaded with butter and oatmeal, but tempered by the zip of fresh fruit or jam and a pinch of spice. The hjónabandssæla I tasted were, without exception, blueberry, but I've been reliably informed that rhubarb jam is by far the more common filling.
Happily, these bar cookies are easy to customize with whatever fresh fruit or jam you like!
The recipe starts with a wonderfully easy and versatile dough that serves as both the crust and streusel topping for the bars—a mixture of rolled oats, all-purpose flour, light brown sugar, baking powder, baking soda, salt, and cinnamon, along with unsalted butter and an egg. Plus fruit, of course, whether something fresh from the farmers market or a grocery store, or in the form of jam, marmalade, or jelly (more on that in a bit).
Ingredients:
For the Dough:
4 1/2 ounces old fashioned rolled oats, not quick cooking, instant, or thick cut (about 1 1/3 cup; 128g)
4 1/2 ounces all-purpose flour (about 1 cup, spooned; 128g)
6 ounces light brown sugar (about 3/4 cup, firmly packed; 170g)
1 teaspoon baking powder
1 teaspoon (4g) Diamond Crystal kosher salt, plus more for sprinkling; for table salt, use about half as much by volume or the same weight, plus additional salt for sprinkling
1/4 teaspoon baking soda
1/4 teaspoon ground cinnamon
6 ounces cold, unsalted butter, cut into 1/2-inch cubes (about 3/4 cup; 170g)
1 large egg, straight from the fridge (about 1 3/4 ounces; 50g)
For the Filling:
8 ounces jam (volume will vary; 225g) or 12 ounces "juicy" fruit, such as whole blueberries or raspberries, pitted cherries, sliced strawberries, or peeled and diced peaches (volume will vary; 340g)
Lemon juice, to taste