Pear Prosciutto and Blue Cheese Pizza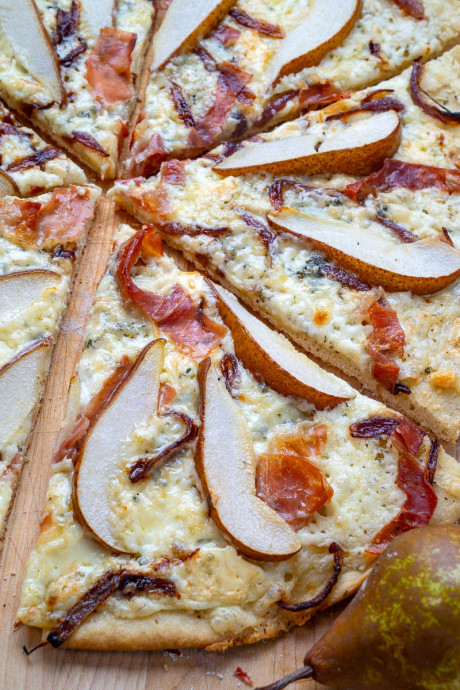 A fall pizza with sweet pear and caramelized onions along with salty prosciutto and tangy blue cheese!
Pears and blue cheese are an amazing flavour combination that like to I enjoy in the fall! They are the perfect blend of sweet and savoury and they are fabulous on a pizza! I like to accentuate the sweet aspects of this pizza with caramelized onions and contrast it a bit with salty prosciutto. This pizza is as easy to make as shaping the pizza dough, brushing it with a bit of oil, sprinkling on the ingredients and baking it! Caramelizing the onions is the only part that takes some time and you can make them ahead of time if desired. I sometimes like to top the pizza off with some fresh baby arugula for some brightness and pepperiness.
Ingredients:
1 tablespoon olive oil
1 onion, sliced
1 pizza dough
1 teaspoon oil
salt and pepper
1 cup mozzarella cheese, shredded
1/4 cup blue cheese, crumbled
3 slices prosciutto, thinly sliced
1 ripe pear, thinly sliced