Italian Sausage Butternut Squash Soup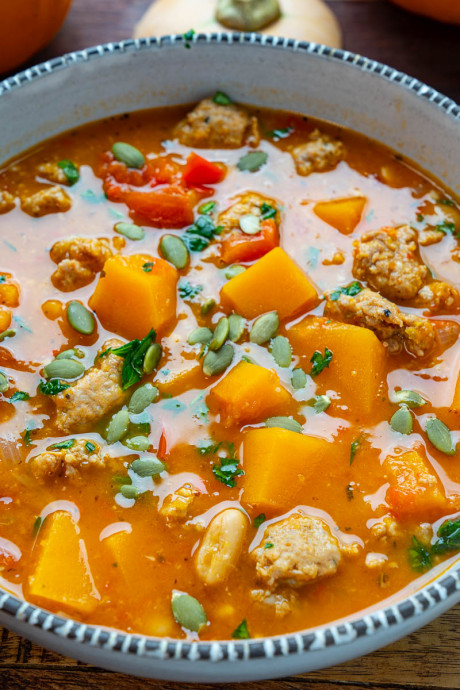 A hearty fall soup with butternut squash and Italian sausage.
Soups are among my favourite fall foods especially when they use butternut squash! This is a super simple soup with with butternut squash, spicy Italian sausage, bell pepper, beans, tomatoes and a hit of parmesan cheese. The butternut squash is cut into bite sized cubes and simmered in the broth until tender at which point half of it is pureed, along with some white beans, so you get a thick, smooth and creamy broth in addition to the large cubes of butternut squash! The Italian sausage and parmesan cheese add ton of savoury flavour which goes amazingly well with the sweet squash. If you are looking for a hearty soup to enjoy this fall you really can't go wrong with this tasty Italian sausage butternut squash soup!
Ingredients:
1 pound Italian sausage, casings removed
1 onion, diced
1 red bell pepper, diced
3 cloves garlic, chopped
4 cups chicken broth
1 (14.5 ounce) can white beans, drained and rinsed
1 (14.5 ounce) can diced tomatoes
1 medium butternut squash (~2-3 pounds), peeled and cubed
1/4 cup parmigiano reggiano (parmesan cheese), grated
salt and pepper to taste