Frosted Gingerbread Loaf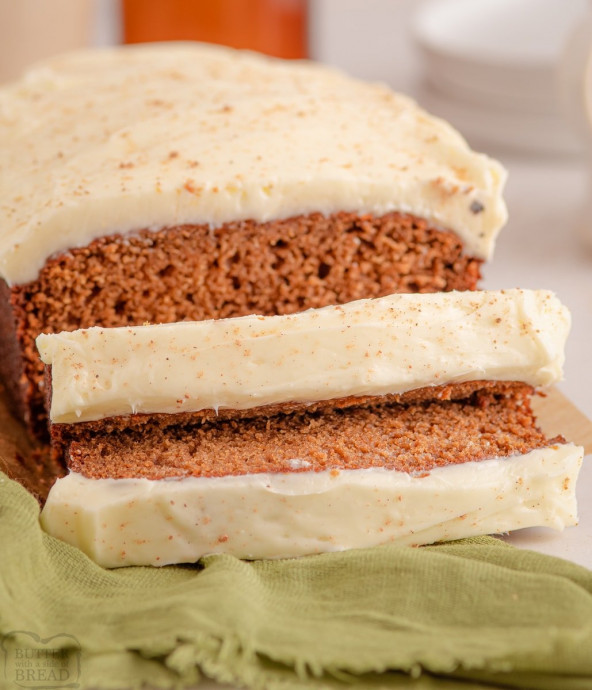 Frosted Gingerbread loaf made with butter, molasses, applesauce & a blend of warm Fall spices! Delicious gingerbread quick bread with a smooth cream cheese frosting on top that everyone adores!
Made with your favorite gingerbread flavors and spices like cinnamon and cloves, and then topped with a cream cheese frosting, this bread is simply irresistible. You're going to love this easy quick bread recipe because it's so simple to make and that just adds to the charm.We love this moist gingerbread loaf recipe. Every bite is soft and slightly dense so it's filling and smooth on the tongue. Every bite is fabulous but when slathered in that thick cream cheese frosting, it's absolutely swoon-worthy.
Serve up this fall baking recipe next time you have guests or keep a loaf for yourself, and watch it disappear either way because one slice is never enough and you won't stop reaching back for another.
Ingredients:
Loaf:
1 ¾ cups flour
2 ½ tsp ginger
1 ½ tsp cinnamon
¾ tsp baking soda
¼ tsp baking powder
¼ tsp allspice
¼ tsp cloves
1 tsp salt
½ cup butter room temp
½ cup brown sugar
¼ cup sugar
⅔ cup applesauce
⅓ cup molasses
2 eggs
1 tsp vanilla
Frosting:
8 oz cream cheese
4 Tbs butter room temp
1 cup powdered sugar
1 tsp vanilla
Pinch of salt