Creamy Asparagus and Pea Soup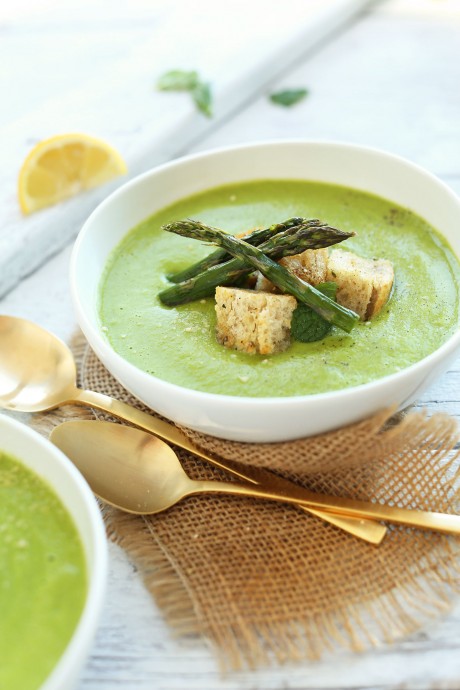 Simple, 30-minute roasted asparagus soup with peas, shallot, and garlic! Almond milk makes this soup so creamy and satisfying and garlic croutons add the perfect finishing touch.
Sautéed garlic and shallot add depth of flavor while almond milk makes it oh so creamy. Two optional finishing touches? Nutritional yeast for a cheesy, garlicky punch, and lemon juice for a bright finish. This soup it's so green, healthy, and gorgeous! You can enjoy it as is, but any creamy soup calls for a garnish, am I right? Five-ingredient garlic herb croutons to the rescue! You can whip these gems up while your soup's simmering away. And in my opinion, they totally make it.
No soup should require more than a handful of ingredients, in my humble opinion. And this one fits the bill with 9 basic ingredients. Garlic croutons are optional, but let's be real – I eat the soup for the croutons. And it's quick! Just 30 minutes required start to finish! Enjoy!
Ingredients:
2 Tbsp olive or avocado oil
12 ounces asparagus (trimmed // 1 large bundle yields ~12 ounces)
10 ounces fresh or frozen peas (2 cups yield ~10 ounces)
4 cloves garlic (minced)
1 medium shallot (thinly sliced)
Salt + Pepper
1 1/2 cups Almond Breeze unsweetened plain almond milk
1 1/2 cups vegetable broth (DIY or store-bought)
1-2 Tbsp nutritional yeast (optional // for a slightly cheesy flavor)
1/2 medium lemon (optional // juiced // for brightness)
2 cups bread (any kind // cubed)
1/4 cup olive oil (or other neutral oil)
1/4 tsp each garlic powder, salt + pepper, dried oregano, dried basil