Sausage Rigatoni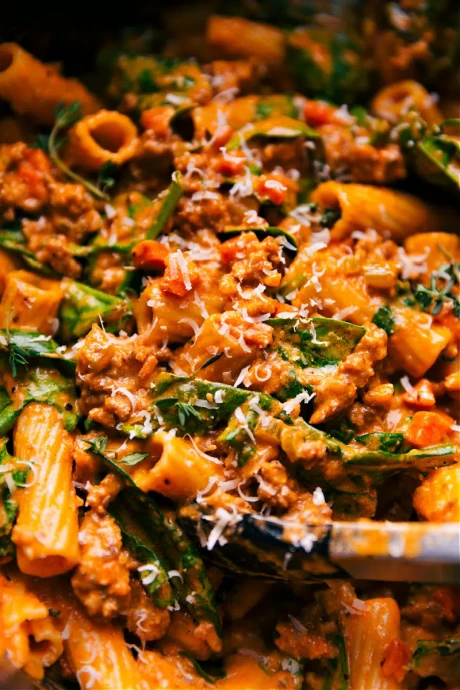 This robust Sausage Rigatoni is made with everyday ingredients and is ready in about 30 minutes. Perfectly cooked rigatoni is tossed in a luxuriously rich sauce with tender spinach and Italian-seasoned sausage.
We love a good sausage and pasta recipe — try these recipes next: Creamy Sausage Pasta with fettuccine or this creamy Sausage Tortellini Soup.
Sausage Rigatoni is truly the perfect meal for when you're craving some good, hearty comfort food. This pasta is rich, indulgent-tasting, and total restaurant quality — we couldn't be more obsessed with it!
Additionally, Sausage Rigatoni makes a great meal to serve to company . It's so flavorful and fancy looking, but low stress to make as the host — in fact, this is a great dish to make (mostly) ahead of time. More on this later!
Ingredients
3-1/4 cups (9 oz.; 250g) uncooked rigatoni pasta (not entire package!)
2 tablespoons olive oil
1 cup each: finely diced yellow onion, celery, carrots Note 1
Fine sea salt and pepper
1 lb. (16 oz.) Italian sausage Note 2
1 tablespoon minced garlic (~4 cloves)
1 teaspoon each: Italian seasoning, fennel seeds, onion powder Note 3
1-1/2 teaspoon paprika
5 tablespoons (80g) tomato paste
1 tablespoon white wine vinegar, optional -- Note 4
1 cup (225g) low-sodium chicken broth
1 cup (225g) heavy whipping cream Note 5
4 cups (75g) coarsely chopped loosely packed baby spinach
For serving: Parmesan cheese, fresh herbs (like thyme, parsley, or basil) and red pepper flakes