Mini Red Velvet Bundt Cakes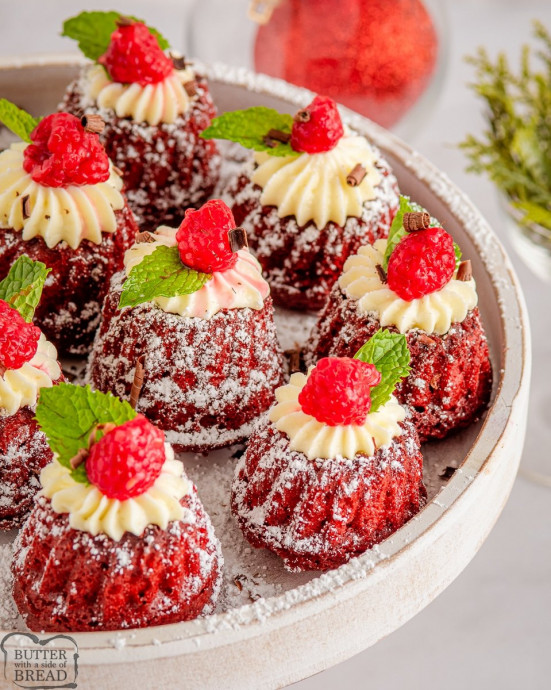 This recipe for red velvet bundt cake is easier than you may think, and it's completely homemade from scratch, making it even more impressive. These moist little cakes are packed with that tangy chocolate flavor we know and love and covered in a whipped cream cheese frosting.
Mini bundt cakes are just like regular bundt cakes but smaller. Made in a similar shaped and sized round pan with a hole in the center you can get the great bundt cake look you want but in a much more personal-sized portion. These tiny cakes can get dolled up to look incredible or be made to look simple and aesthetically pleasing too. The only limits are your own imagination.
Ingredients:
1 ⅔ cup sugar
½ cup butter room temp
⅓ cup vegetable oil
2 eggs
2 egg yolks
¼ cup sour cream
1 cup buttermilk
2 ¾ cup flour
⅓ cup cocoa
3.4 oz vanilla pudding mix
1 ½ tsp baking powder
1 tsp salt
¾ tsp baking soda
1 ½ tsp white vinegar
1 TBSP red food coloring
Cream Cheese Frosting
8 oz cream cheese
1 cup powdered sugar
½ cup butter room temp
2 TBSP milk
½ tsp salt