Apple Crisp Pizza with Caramel Sauce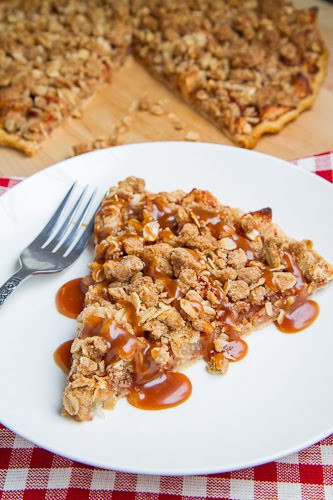 Tender apples and cinnamon with a rolled oat crumble topping served pizza style on rolled out pie crust. It like a combination of apple crisp apple pie and an apple pizza all rolled up into one and then smothered in caramel!
I am a huge fan of apple desserts and I always enjoy fall and early winter with their huge selection of apples to use in them. Some of my favourite apple treats include apple crisps and apple pies so when I came across a recipe that combined the two an served them up in pizza form as an apple crisp pizza on The Girl Who Ate Everything I knew that I would have to try it! The basic idea is that a pie crust is rolled out like a pizza dough and topped with a layer apples coated in cinnamon and then topped in a layer of rolled oat crumble. Not only is this recipe amazing but it is dead simple to make once you have your pie crust! Really the hardest part is peeling and dicing the apples! If all of this was not enough, the finished product is smothered in caramel sauce and the apple and caramel flavour combination is simply divine! You will have to excuse me while I go and warm up an another slice!
Ingredients:
4 medium apples, peeled and cut into 1/4 inch pieces
1 tablespoon lemon juice (1/2 a lemon)
2 tablespoons sugar
1 tablespoon flour
1 teaspoon cinnamon
1 pie crust
3/4 cup all-purpose flour
1/2 cup packed brown sugar
3/4 cup old-fashioned rolled oats
1 teaspoon ground cinnamon
1/3 cup butter, melted
1/2 cup caramel sauce