Bakery Style Chocolate Cookies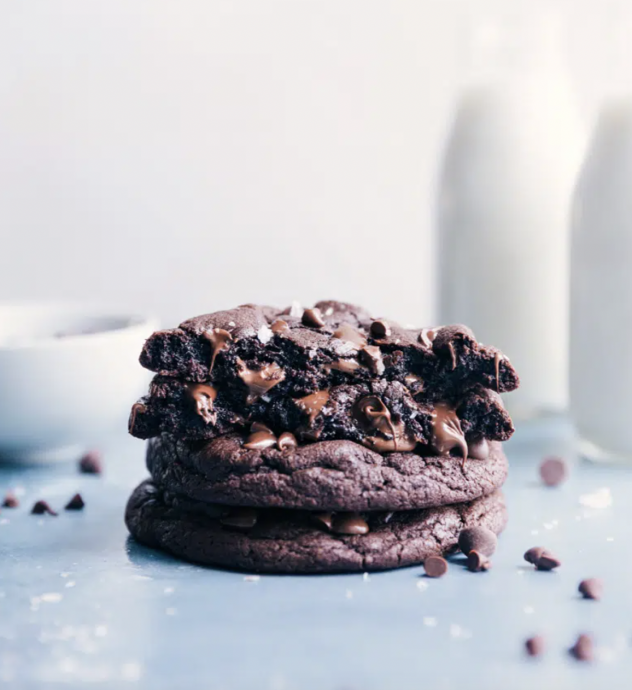 Bakery Style Chocolate Cookies are big, soft, chewy, and ridiculously rich! These chocolate-loaded cookies have gooey, thick centers and slightly crisp edges. After years of being disappointed with fairly lackluster chocolate cookies (that weren't rich/flavorful enough or too dry), I worked on and published my favorite Chocolate Cookies recipe. Those cookies are a total chocolate lover's dream and a huge favorite at my home.
Unfortunately, though, that recipe doesn't translate well to large bakery-style sized cookies; in fact, they work best when rolled into fairly small (1 tablespoon-sized) cookies. And since bakery-style and bakery-sized cookies are all the rage these days, I knew it was time to get back to the drawing board!
After a few months of testing, I'm so excited and thrilled to share this recipe — big, bakery-style chocolate cookies that are moist, rich, and loaded with chocolate. And when I say big, I mean, big. Each cookie is 4 ounces in size!
Ingredients:
1/2 cup (113g) unsalted butter
3/4 cup (130g) light brown sugar, tightly packed
1 large egg
1 teaspoon vanilla extract
1/2 teaspoon each: cornstarch, baking soda, fine sea salt
1/4 cup (22g) Dutch-process cocoa powder
1/2 cup (53g) cake flour
3/4 cup (103g) all-purpose flour
1/2 cup (85g) miniature chocolate chips
1 cup (182g) milk (or semi sweet) chocolate chips