Juicy Tomahawk Steak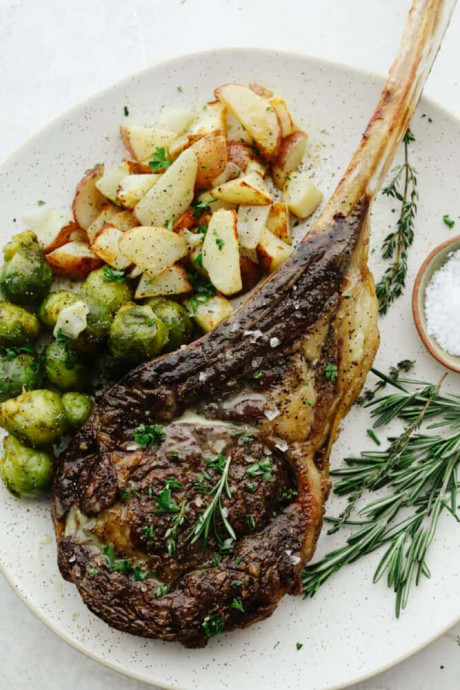 This tomahawk steak is juicy, tender, and filled with insanely delicious flavor! Make it your main dish for any occasion and your guests will keep coming back for more!
Steak goes with just about everything and this tomahawk steak is no exception! Make it a meal and add in these potatoes, Brussel sprouts, and rolls to go with it. You will be sure to get a "WOW!" from your family and friends! If you have never had a tomahawk steak then you are in for a real treat! They are so delicious and hold in the juices so well that it makes my mouth water just thinking about it. This type of steak is incredibly tender with a delicious, rich flavor. The marbled fat in the meat gives in a deep flavor that you will go crazy over! Cook this up for a special occasion or a holiday and then you will want to have this all the time!
This cut of meat actually has about an 8-inch bone left in it. The meat is trimmed off of the bone to make it look like the handle of an ax. This gives this cut of meat a total "wow factor" but it really also helps it cook! The bone-in keeps the meat super tender while it cooks. This steak is often seen at restaurants but with this recipe, you can recreate it at home and enjoy it whenever you want!
Ingredients:
1 Tomahawk Steak (rib-eye)
3 teaspoons kosher salt
2 teaspoons pepper
1-2 Tablespoon olive oil
fresh rosemary and parsley to garnish