Soft Gingerbread Cookies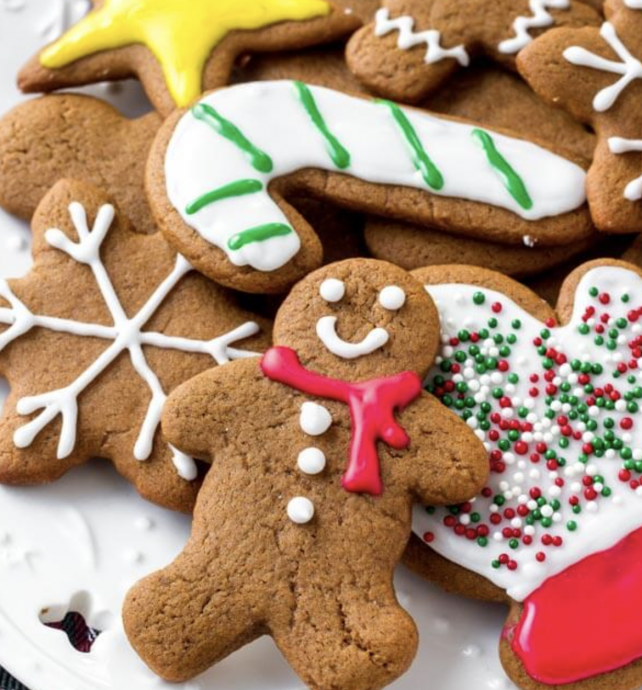 These soft gingerbread cookies are a must for the holidays. They're perfectly spiced with soft centers and the perfect gingerbread taste. The best gingerbread men I've ever tried!
Every Christmas I always make gingerbread cookies – so I was surprised when I realized a lot of people don't really like them. But after some sleuthing & cooking investigating – the common complaint I heard was that gingerbread cookies are too hard.
So, I today I'm fixing the age-old problem with gingerbread and sharing you my absolute favorite recipe for soft gingerbread cookies. They're deliciously chewy with a brown sugar gingerbread flavor that's absolutely delicious. Plus – I'm sharing 2 different types of icing for decorating your cookies with.Typically gingerbread cookies are decorated with royal icing. Royal icing is great for decorating because it has a beautiful shine to it and can be used for really intricate designs. You end up with cookies that have that perfectly glossy top, and it works very well for detailed icing.
Ingredients:
Gingerbread Cookies
3 cups all-purpose flour
2 teaspoons ginger powder
1 teaspoon cinnamon
¼ teaspoon nutmeg
¼ teaspoon ground cloves
¾ teaspoon baking soda
¼ teaspoon salt
½ cup unsalted butter
⅔ cup brown sugar packed
1 large egg
1 teaspoon vanilla extract
⅔ cup molasses
Royal Icing
2 large egg whites or 3 tablespoons meringue powder & ¼ cup water
1 teaspoon fresh lemon juice
3-4 cups powdered sugar
Buttercream Icing
½ cup unsalted butter softened
2 cups powdered sugar sifted
1 teaspoon vanilla extract
1-2 tablespoons milk or cream