Low-Carb Chicken and Cauliflower Casserole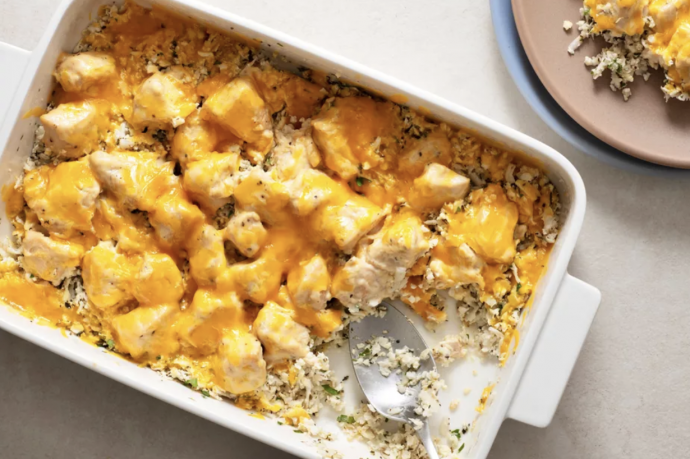 The cauliflower craze is here to stay. This tasty cruciferous vegetable is low in carbs and high in fiber. It can easily replace rice in texture when processed to a coarse mixture or potatoes when cooked and mashed with salt and herbs. With just 25 calories in one cup serving, cauliflower can bring to your plate 21 mg of vitamin C, which translates to 30 percent of your daily necessary intake of this nutrient.1 Not bad for a serving of deliciousness.
Our easy one-pot dish makes the perfect meal. Hearty, filling, gluten-free, low carb, and keto-approved, this casserole is a complete meal. The only thing you need to serve is a good appetite—and perhaps a green salad. A little cream, some cheddar cheese, and a variety of herbs jazz up the casserole.
Ingredients
1 pound boneless chicken breasts
Kosher salt, to taste
Freshly ground black pepper, to taste
1 tablespoon olive oil
1/4 cup heavy cream, or half-and-half
1 teaspoon vegetable oil
1 medium head cauliflower, grated
1 teaspoon dried basil
1/2 teaspoon dried thyme
1 tablespoons finely chopped fresh parsley
1/4 teaspoon onion powder, optional
1 cup shredded cheddar cheese