Chocolate Chip Cookie Pie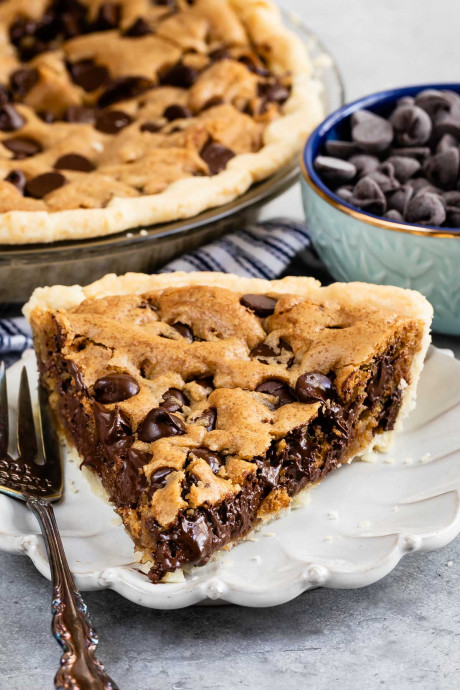 Chocolate Chip Cookie Pie is a giant chocolate chip cookie cake in a pie crust – it's an epic rich and fudgy pie recipe that's completely from scratch! It's my original recipe and will become one of the greatest recipes you've ever made! Why you'll LOVE this pie recipe: The butter pie crust is completely from scratch (but you can swap in a pre-made crust). The filling is my go-to chocolate chip cookie recipe that has been loved by millions! It stays gooey in the center because of that crust on the bottom – rich as ever! It's a BIG COOKIE IN A PIE CRUST! This pie is BETTER than Nestle Toll House Pie! Perfect warm, room temperature, with whipped cream, plain or ice cream!
I recommend serving this warm with a scoop of ice cream. Next time I'm going to add chocolate sauce or hot fudge! Last week when I made this giant cookie it was all we could do not to eat it. We are huge suckers for warm chocolate chip cookies and this recipe delivers.
Ingredients:
1 9-inch All Butter Pie Crust or use a store bought crust
½ cup (113g) Challenge Unsalted Butter , melted
⅓ cup (67g) granulated sugar
½ cup (150g) packed brown sugar
1 large egg
1 teaspoon vanilla extract
½ teaspoon baking soda
½ teaspoon salt
1 ½ cups (186g) all-purpose flour
1 ½ cups (255g) chocolate chips , plus a few more for sprinkling on top the pie