Kaiserschmarrn (Austrian Torn Pancakes)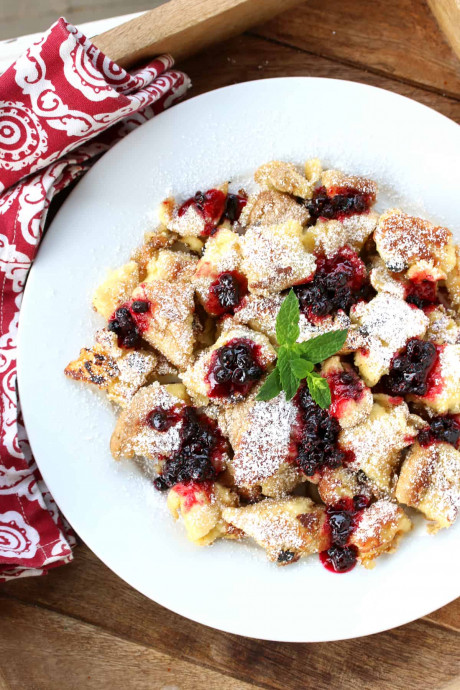 The famous torn pancakes originating in Austria and enjoyed throughout Bavaria, this traditional Kaiserschmarrn recipe features pillowy soft torn pieces of pancakes studded with rum-soaked raisins (optional) and served with powdered sugar and your choice of fruit preserves, berry jam or applesauce!
Here is a special treat my mom used to make for us growing up in Germany. It's also served at the annual Oktoberfest in Munich where the huge fairytale castle-like tent called Café Kaiserschmarrn is set up and seats 400 people eagerly awaiting the famous confection. Enjoyed throughout Austria and Bavaria as both a dessert or lunch, Kaiserschmarrn is quick to make and a thorough delight to eat! While no one knows for sure exactly how the dish came about, most food historians believe it originated with Emperor Francis Joseph I of Austria and his wife Elisabeth of Bavaria. Thus Austrians and Bavarians both rightfully claim Kaiserschmarrn as their own. Kaiserschmarrn is a traditional dessert but it is also commonly eaten for brunch or lunch as a main course.
Serve with a dusting of powdered sugar accompanied by fruit preserves or compote (plum compote, called Zwetschgenröster, is traditional), berry jam, or applesauce. You can also add a dollop of whipped cream if you like.
Ingredients:
3 tablespoons raisins
3 tablespoons rum
1 cup plus 2 tablespoons all-purpose flour
1/8 teaspoon salt
3 large egg yolks
1/4 cup granulated sugar
1 teaspoon quality pure vanilla extract
3 large egg whites
3 tablespoons unsalted butter
1 tablespoon granulated sugar
powdered sugar, fruit preserves/compote, berry jam, applesauce , for serving