Garlic Steak Bites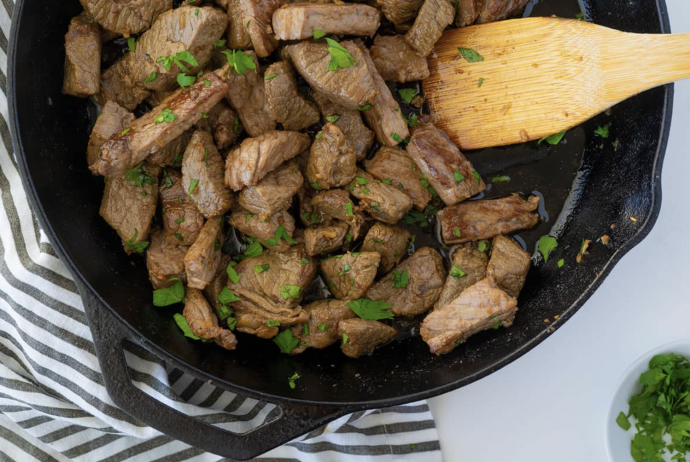 Garlic, butter, and steak are pretty much the ultimate pairing of foods. Steak is meaty, savory, and delicious when seasoned properly, butter makes everything taste better, and garlic has a place in pretty much every savory meal.
Make these garlic steak bites as an appetizer or snack food for a party, or just as a cheat meal on a Saturday night. Make sure you look at the recipe card at the very bottom for the exact amounts so that you know exactly what to buy for this recipe.
This recipe uses some sirloin steak, which is a really great, all-purpose beef cut for all sorts of different steak recipes.
It isn't too fatty, while still not being totally lean, and holds up well to a little bit of accidental overcooking or undercooking.
However, you aren't forced to use only sirloin; you can use whatever steak cuts you want!
A decadent replacement for sirloin steak would be a nice ribeye, but if you do this, make sure that you cut the rib eye very thinly and make sure to remove any big globules of fat.
Ribeye is a much fattier cut, and if you leave the fat attached or cut the whole thing too thick, the fat won't render out, and the whole thing will come out chewy.
Flat iron steak or hanger steak are also some great alternatives, as they both cook super quickly and go great with some garlic butter.
Ingredients:
1 tablespoon olive oil
2 pounds sirloin steak cut into bite-size pieces
3/4 teaspoon flaked sea salt
3/4 teaspoon pepper
1/4 cup salted butter
3 tablespoons minced garlic
1 1/2 tablespoon fresh parsley minced