Creamy Chipotle Pinto Bean Soup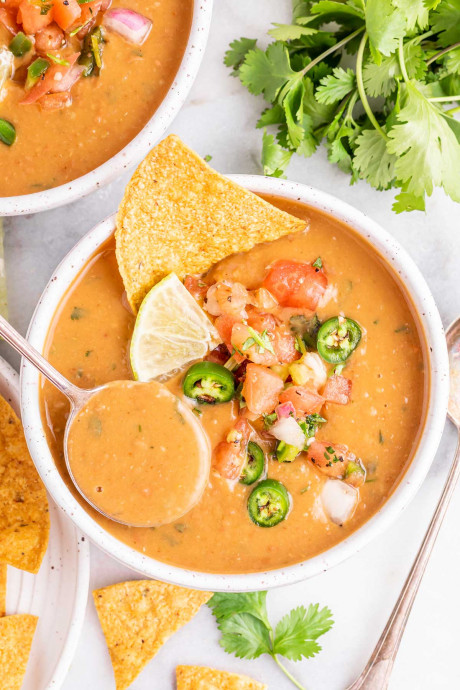 Creamy pinto bean soup with a kick of smoky heat from adobo sauce and jalapenos! Add your favorite garnishes to dress it up, and you get a cozy bowl of soup that will warm you up on a cold day. This is not your average pinto soup. No, this is an amped-up bean soup with flavors from peppers, adobo sauce, and spices that combine to make a creamy and hearty soup that is a meal in itself.
And don't be fooled by "creamy" because there's no cream in this recipe. The texture is created by blending some of the pinto beans, which thickens the soup and gives it a thick, velvety texture. It's completely dairy-free (unless you add a cheese garnish) and meat-free, but you'd never guess. It's so filling and satisfying.
It's a quick-simmer soup that's ready in less than an hour, and it's guaranteed to warm you up on the coldest day. Which, by the way, is basically every day where I'm from – lately, each day seems to be colder than the last.
Ingredients:
2 tablespoons unsalted butter
1 tablespoon vegetable oil
1 large onion, diced
4 cloves garlic, minced
2 serranos or jalapenos, thinly sliced or minced (remove seeds for a less spicy soup)
1 tablespoon ground cumin
1 teaspoon kosher salt
½ teaspoon Mexican oregano
2 tablespoons chipotle in adobo purée
4 (15-oz) cans pinto beans, don't drain or rinse them
1 (32-oz) box vegetable broth
Juice of 1/2 lime
1 handful cilantro, chopped