Baked Eggplant Parmesan Mac and Cheese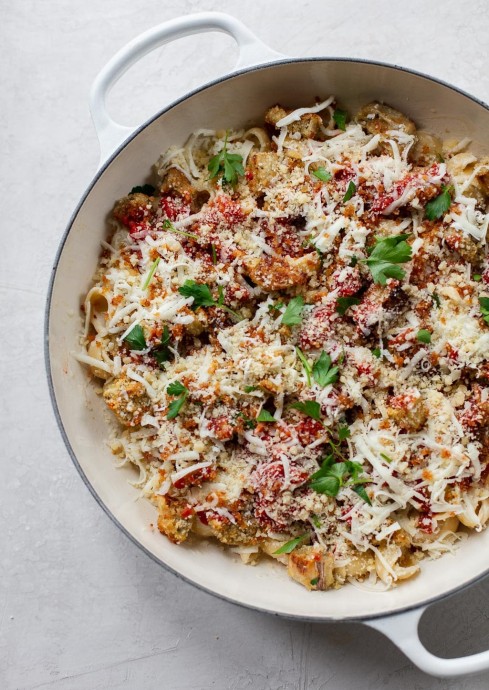 An amazing comfort food combo! Two totally delicious comfort foods in one dish: Crusty baked eggplant Parmesan with pasta in a creamy, cheesy sauce, all topped with marinara.
When we're thinking about comfort food, all things carb-y and cheese-y are often the first things we crave. Eggplant Parmesan and macaroni and cheese — or, basically any kind of pasta with cheese on it — are two dishes right at the top of the list.
So, here's a recipe that combines the two, an all-in-one meal to serve out of a bowl while on a comfy couch. No-fry eggplant parmesan delivers a delectable crunchy crust without the mess (and extra oil) that comes with deep-drying. This is a hearty dish that will easily feed a hungry table of 4, with leftovers.
Ingredients:
3/4 pound (350 g) eggplant, about 1 medium or 2 small, peeled
1 egg
Kosher salt
½ teaspoon fresh ground black pepper
1 teaspoon chopped garlic
1 teaspoon dried oregano
2 1/2 cups (270 g) panko crumbs or coarse dry bread crumbs
Olive oil
2 tablespoons butter
2 tablespoons flour
2 cups (475 ml) whole milk
½ cup (50 g) grated Parmesan cheese
12 ounces (340 g) dried pasta shells orecchiette or similar shape
1 cup (240 ml) prepared marinara sauce
3/4 cup (85 g) shredded whole milk mozzarella cheese, about 1/2 pound
1/4 cup (15 g) chopped Italian parsley