Pecan Pie Babka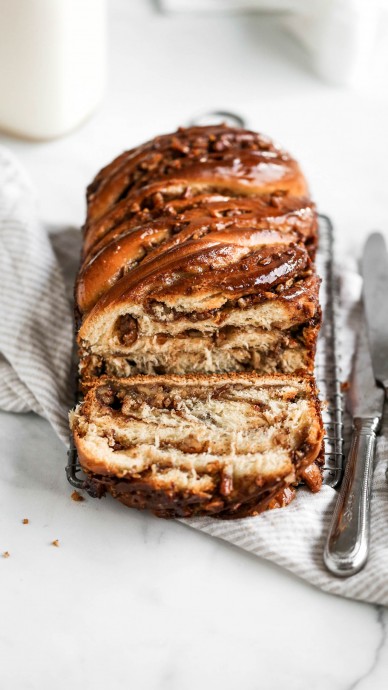 This babka recipe uses pecans, maple syrup, brown sugar, and cinnamon in the filling. It boasts a chocolate-y, fudge-like filling reminiscent of a gooey pecan pie, and with its impressive swirls and crunchy nut topping it sure is impressive to look at.
Pecan Pie Babka tastes like a rich buttery dough that just melts in your mouth. It's similar to cinnamon rolls but it's a little bit fluffier and richer. This is due to the amount of butter added to the dough and since it's at room temperature, you get a smooth buttery texture as opposed to a flakey one.
Classic babka is filled with chocolate which pairs so well. The chocolate is slightly bitter which balances out the sweetness and creaminess of the loaf. Plus, chocolate adds a great contrast to those beautiful swirls!
There are endless amounts of fillings you could use for babka. There's chocolate hazelnut, cinnamon sugar, rum raisin, maple bacon, peanut butter banana…I mean the list goes on and on. I'm even getting some more inspiration here! It's such a gorgeous dessert but takes much less effort than you think.
Ingredients:
2 cups + 2 tbsp all-purpose flour, plus extra for dusting
1/4 cup granulated sugar
1 tsp active dry yeast
2 large eggs
1/4 cup + 1 tbsp whole milk
1/2 tsp salt
5 tbsp unsalted butter, room temp
4 tbsp unsalted butter, room temp
2 tbsp maple syrup
1/2 cup packed brown sugar
2 tsp cinnamon
1 cup chopped pecans
3 tbsp water
3 tbsp granulated sugar