Sausage & Garlic Pesto Flatbread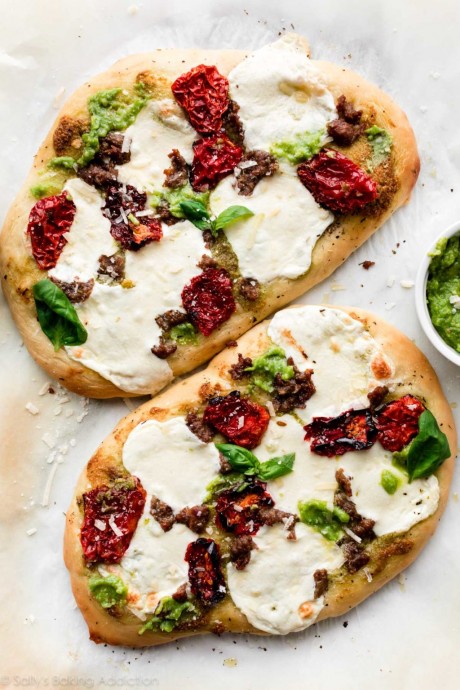 This deliciously cheesy and savory sausage & garlic pesto flatbread uses my easy 1 hour flatbread pizza dough. Top with fresh mozzarella, sun-dried tomatoes, homemade pesto, and cooked crumbled sausage for a quick dinner recipe the whole family will love!
This homemade flatbread pizza bakes up into a thin and chewy base for your favorite flatbread toppings. Quicker, easier, and thinner than a full size pizza, my flatbread recipe takes about 1 hour start to finish and is perfect for beginners.
It's quick and convenient: cheesy, salty, saucy, garlicky, spicy, savory - perfect for breakfast or branch. My latest favorite flatbread is this snazzy pesto and sausage combination. I paired it with mozzarella and sun-dried tomatoes, then topped it all with crushed red pepper. Store-bought dough is definitely convenient, but you only need a few basic ingredients to make it yourself. For even more flavor, add herbs and seasonings to the dough like garlic powder, lemon pepper, or Italian seasoning– or leave it plain. However, the real fun comes with the toppings! It's very fresh and very versatile!
Ingredients:
1 teaspoon active dry or instant yeast
1 teaspoon granulated sugar
3/4 cup (180ml) warm water, (between 100-110°F, 38-43°C)
2 cups (250g) all-purpose flour or bread flour (spoon & leveled), plus more for hands and surface
1 Tablespoon (15ml) olive oil, plus 1 teaspoon for brushing the dough
1 teaspoon salt
1 cup cooked or uncooked sausage*
1 cup homemade pesto*
8 ounces fresh mozzarella cheese, sliced into 1/4 inch thick slices
1/2 cup sun-dried tomatoes or thinly sliced fresh tomatoes*
optional: crushed red pepper flakes