Best Prime Rib (Garlic Herb Crust)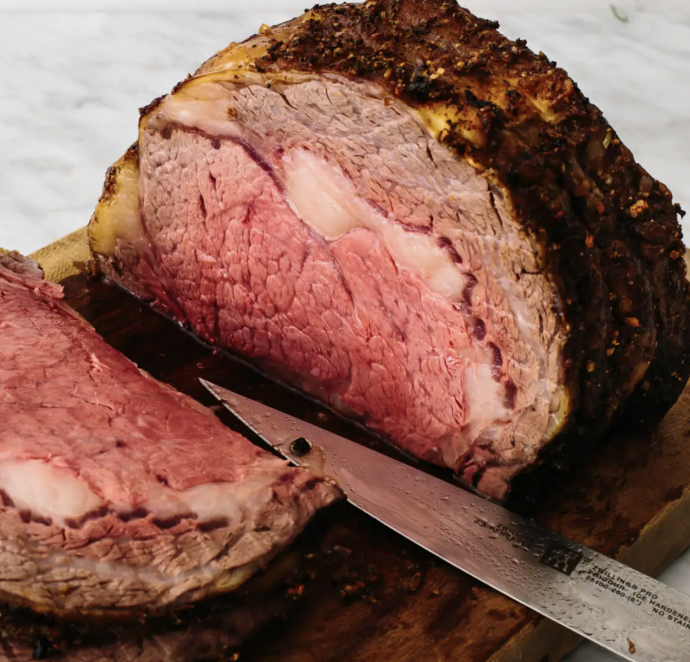 Are you ready for the BEST Prime Rib recipe? This is a no-fail, meltingly tender and juicy, garlic-crusted prime rib that will have all your guests swooning. This standing beef rib roast is perfect for Christmas and the holidays, or any special occasion worthy of a little splurge.
Prime rib (also known as standing rib roast) is up there next to turkey and beef tenderloin in terms of intimidating recipes. It's a big 'ol chunk of meat that's usually the centerpiece of a holiday meal. And let's be honest, you don't want to accidentally over cook it or mess it up, especially if you have guests over.
Adding to the intimidation…prime rib is also super pricey. But if you've enjoyed a perfectly roasted prime rib, you also know that it's worth every penny for that beautiful, show-stopping piece of meat.
So let's jump to the good news – it's really easy to cook! Sure, you may find different cooking methods online, like a reverse sear, but I promise that if you stick with this simple, no-fail prime rib recipe you'll get raving accolades all around. You know my motto, simple and foolproof is best.
Ingredients:
PRIME RIB
6 pounds prime rib, bone-in (with bones cut off and tied back on)
1/2 cup butter, softened
6 garlic cloves, minced
1 tablespoon kosher salt
1 teaspoon finely chopped fresh thyme
1 teaspoon finely chopped fresh rosemary
1 teaspoon black pepper
1 onion, quartered (if making the red wine au jus)
RED WINE AU JUS
1/4 cup drippings from prime rib pan, make sure to separate the fat from the drippings
2 cups beef broth
1 1/2 cups red wine
Optional: 1 tablespoon cornstarch or arrowroot powder (in a slurry) to thicken