Grilled-Kale Salad With Warm Bacon Vinaigrette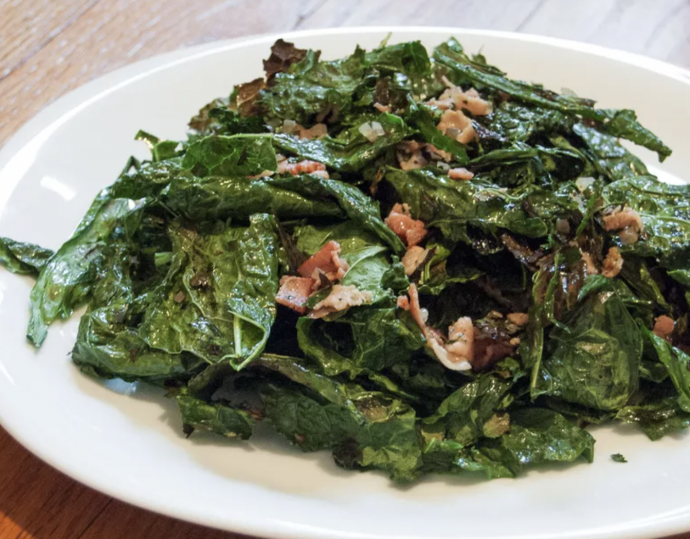 Kale is one of the trendiest vegetables these days, but it's still possible to serve it in a surprising way: grilled. Smoky and with a touch of crunch, hearty lacinato leaves are a delightful, if unusual, vehicle for a vinaigrette made with crisped bacon, shallots, and apple cider vinegar. It's a killer side dish you'll want to nestle alongside your potato salad and hamburgers at your next BBQ.
Why this recipe works:
Hearty leaves of lacinato kale stand up well to a grill's high heat, taking on flavor and texture without burning or wilting too much.
Shallots and apple cider vinegar bring sweetness and tang to smoky bacon in a rich dressing that comes together in just minutes. To echo the grilled kale's smokiness, as well as add some much-needed richness to the sometimes-ascetic greens, I tossed this salad in a warm, rich bacon vinaigrette that couldn't be simpler to make. I just crisp some bacon in a pan, sauté some sweet shallots in all that lovely rendered bacon fat, then tie it all together with a glug of fresh, tart cider vinegar. Make space among the hamburgers and pork chops: This tasty, delightfully unusual salad deserves its spot on the grill.
Ingredients:
1 large bunch lacinato (a.k.a. Tuscan or dinosaur) kale (about 1 pound)
3 tablespoons extra-virgin olive oil, divided
Kosher salt and freshly ground black pepper
3 ounces (about 3 slices) bacon, chopped
1 small shallot, peeled and minced (about 3 tablespoons)
1/4 cup apple cider vinegar