Winter Greens Salad With Fennel, Citrus, and Creamy Citrus Vinaigrette Recipe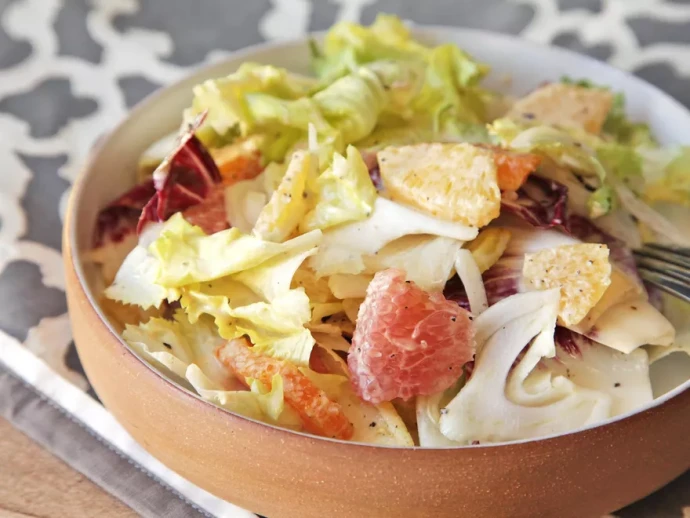 This easy winter salad with bitter greens, shaved fennel, citrus, and a sweet and creamy citrus vinaigrette would do equally well with a light lunch or dinner, or as a side dish for a larger feast.
Sweet citrus contrasts nicely with the bitter greens. Adding a dash of lemon juice to the mixed citrus juice before forming the dressing gives it necessary acidity.
The chopped citrus bears a striking resemblance to the limited Starburst color palette, doesn't it? Fortunately, the flavor is brighter, fresher, and better.* I like to chop the citrus into a strainer set over a bowl so that I can collect the juices as they drip, squeezing the core of the fruit to get every last drop out. And that's how I ended up with a bowl of mixed citrus juice.
Who am I kidding here? Starbursts are awesome.
Typically, that juice becomes a cook's treat—I'm likely to drink it straight out of the bowl before anyone else gets a chance. But this time, I remembered a salad I'd eaten the week before up at Ad Hoc in Yountville, made with citrus and mizuna in a creamy citrus vinaigrette. And that's how I ended up making this salad.
Ingredients:
1 1/2 pounds (700 grams) mixed citrus fruit (such as oranges, grapefruit, pomelo, tangerines, and mandarins), peeled and cut into suprèmes or 1/4 wheels, juices reserved separately
1/4 cup (50 grams) mayonnaise
1 tablespoon (15 milliliters) juice from 1 lemon
1 tablespoon (15 milliliters) honey
2 tablespoons (30 milliliters) extra-virgin olive oil
Kosher salt and freshly ground black pepper
1 Belgian endive
1 small head radicchio (about 5 ounces/150 grams)
1 head escarole, washed and roughly chopped (about 6 cups/300 grams chopped leaves)
1 large bulb fennel (about 6 ounces/175 grams), shaved on a mandoline