Instant Pot Zuppa Toscana Soup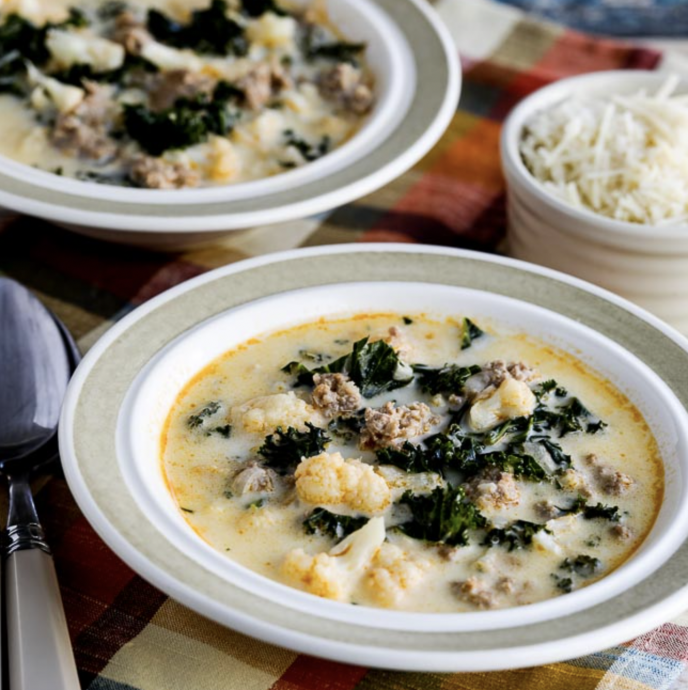 If you're a fan of Instant Pot soup, you're going to love this Instant Pot Zuppa Toscana Soup, and there are stovetop instructions as well! And this amazing Italian-inspired soup is low-carb, Keto, and gluten-free.
This Instant Pot Zuppa Toscana Soup is a new recipe I'm extra excited to share with you! Sometimes when a recipe idea pops into my mind I'll google it to see if there are other bloggers who have already made similar things. But when I had the idea for a low-carb version of Zupppa Toscana Soup, I didn't need to google it. I knew there would be other bloggers who had made their version of this tasty soup, and I didn't care. I love the ingredients in Zuppa Toscana soup so much I wanted to make my own version even if it wasn't that original. And because the onion, garlic, and sausage are cooked in the Instant Pot (affiliate link) before you lock the lid and cauliflower cooks in a flash in the Instant Pot, this soup is super quick! So when you need a quick dinner that's easy, tasty, and low-carb, give this Instant Pot Low-Carb Zuppa Toscana Soup a try!
Ingredients:
3 thick slices bacon, cut into short cross-wise slices (Use more bacon if you prefer.)
1 yellow onion, chopped small
1 T minced garlic (garlic from a jar is fine for this)
1 19.5 oz. package hot or mild Italian Sausage (see notes)
4 cups chopped cauliflower (one small head)
6 cups chicken stock or canned chicken broth (4 cans chicken broth is slightly more than 6 cups, but it will be fine)
pinch red pepper flakes
salt and fresh-ground black pepper to taste
4 cups chopped kale
1 cup heavy cream (see notes)
freshly-grated Parmesan to add at the table