The Best Scratch Green Bean Casserole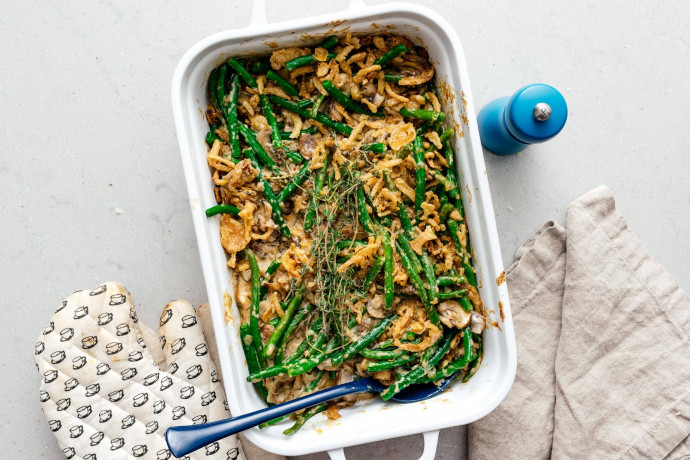 Green bean casserole has a bad rep and it's not unfair – canned soup and canned beans, yech. But it's an umami bomb of a dish that was invented long before the word umami came to the English language and stood the test of time and food trends. This is a modernized, updated, scratch version that's as comforting as it is good for you.
In its original form it's a pretty processed dish that we can definitely improve on. This version is so much more mushroom-y, so much more flavorful, and still only about 10 minutes of extra work. This newly updated recipe is enhanced with the combined umami powers of caramelized onions, double the mushrooms, soy sauce, fish sauce, and parmigiano-reggiano cheese. It's so much better than condensed soup and canned green beans.
Ingredients:
4 tbsp butter or olive oil, or mix of the two
4 cloves garlic crushed
1/2 medium onion sliced
1 lb mushrooms pre-sliced cremini preferred
4-8 sprigs thyme or other herbs
2 tbsp all purpose flour
3/4 cup white wine or beef/chicken/vegetable stock
1 cup heavy cream
0.5-1 cup milk optional, see notes
1 tbsp dark mushroom soy sauce or regular soy sauce
1 tsp fish sauce optional
1/2 cup french fried onions
Assembly
1.5 lb green beans ends trimmed
1/2 cup Parmigiano Reggiano cheese or Cheddar
1 cup french fried onions or more, to finish