Apple Fritters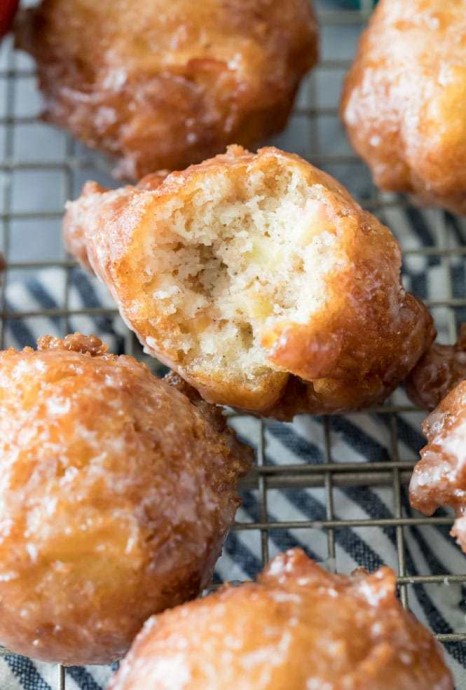 Have you ever made fried apple fritters before? Try one of all-time favorite Fall treats: Apple Fritters. They're so easy and this recipe uses no yeast! Sweet, tender, fluffy, and absolutely packed with flavor! Dip them in a 3 ingredient apple cider glaze or roll them in cinnamon/sugar and enjoy!
These apple fritters are made yeast-free with a batter that's essentially a thicker version of my buttermilk pancake batter. The best part of this is that there are no long, impatient bouts waiting for dough to rise before you can fry them, just mix up the batter, heat up the oil, and go! And these apple fritter is incredibly easy to make!
Use an apple that you enjoy eating. You can use Gala, Fuji, or the ever-popular Honey Crisp when making apple fritters. They're also great with Golden Delicious.
Toss your apples with a bit of ground cinnamon before stirring them into the batter, this gives them a great extra flavor!
Ingredients:
Vegetable or canola oil for frying
1 1/2 cups apples peeled, cored, and cut into 1/4″ pieces
1 teaspoon ground cinnamon divided
2 cups all-purpose flour
1/3 cup sugar
2 Tablespoons brown sugar
1 Tablespoons baking powder
1 teaspoon salt
2 large eggs room temperature preferred
1 cup milk
2 Tablespoons unsalted butter melted and cooled several minutes
1 teaspoon vanilla extract
2 cups powdered sugar
1-2 Tablespoons apple cider, water, or milk
1/4 teaspoon vanilla extract