Cheesy Maple Dijon Chicken Foil Packets with Veggies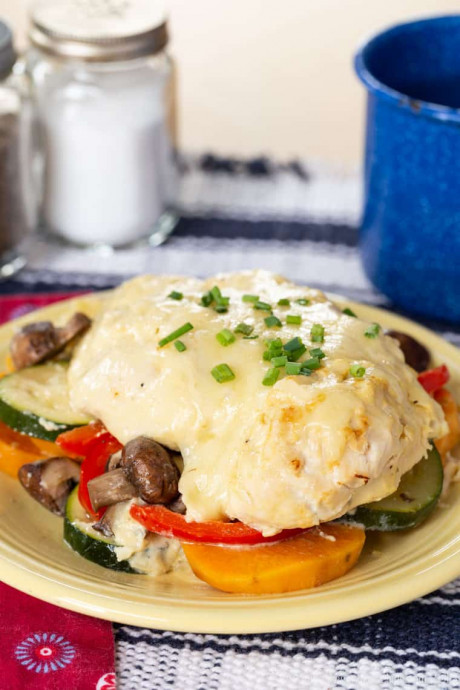 Cheesy Maple Dijon Chicken Foil Packs are a tasty family-friendly dinner recipe that is easy to prepare and even easier to clean up. Filled with veggies and topped with a tangy sauce and plenty of cheese, these meal packets will become a summer staple that you grill and a family favorite all year round when baked in the oven.
These chicken foil packs are filled with veggies and a creamy sauce flavored with maple syrup and Dijon mustard for a tangy, slightly sweet flavor that the whole family will love.
Boneless skinless chicken breasts are marinated in a simple mixture of maple syrup, Dijon mustard, and Greek yogurt to make them moist and flavorful. Then they are wrapped up in aluminum foil with a delicious mixture of veggies, and grilled or baked.
The chicken foil packs are opened up towards the end of the cooking time, topped with more of the creamy maple Dijon mixture and plenty of cheese, and popped back on the grill or in the oven until the cheese is melty and delicious.
Serve on a plate or just eat right out of the foil, and cleanup will be a breeze.
While this recipe is sure to be a summertime staple, you can make it all year long by baking them in the oven instead of tossing them on the grill.
Ingredients:
2-4 chicken breasts (about 1-½ lbs total. If they are very large and you only need two, slice in half lengthwise)
1 Tablespoon olive oil
2 Tablespoons maple syrup
½ cup Cabot Lowfat Plain Greek yogurt
½ cup Dijon mustard
About 1 lb sweet potatoes , sliced into ¼ inch thick rings or semicircles
8 oz. mushrooms , cleaned and halved
1 medium zucchini , sliced ¼ inch thick
1 red bell pepper , sliced
2 Tablespoons Cabot Salted Butter
salt and pepper
1 cup shredded Cabot Vermont Sharp or Extra Sharp Cheddar Cheese
Minced chives or green onions , optional