Chocolate Cake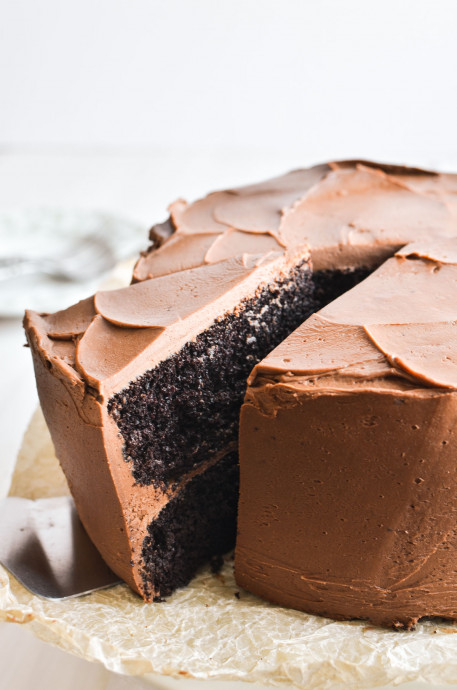 Ina Garten's Chocolate Cake recipe ~ it's a classic! When I hear the word dessert, this homey, rich, chocolatey cake is what springs to mind. Everybody should make it at least once.
It will take a lot for me to look for another chocolate cake recipe in the near future. The texture and flavor of Ina Garten's chocolate cake is just my style — it's very moist without being dense or heavy at all, and has just the right balance of sweetness with rich chocolate flavor. I can see why this is a beloved recipe, and will be my go-to from now on.
I feel that the salt and sour cream help offset the added sugar a little bit. The added sour cream also makes for a slightly softer frosting that doesn't go quite as crusty over time as a plain buttercream frosting tends to do.
Ingredients:
Dry Ingredients
1 3/4 cup all purpose flour
2 cups granulated sugar
3/4 cup cocoa powder
2 tsp baking soda
1 tsp baking powder
1 tsp salt
Wet Ingredients
1 cup buttermilk (I used half-and-half, which worked fine, too!)
1/2 cup vegetable oil
2 large eggs
1 tsp vanilla extract
1 cup hot coffee
For the frosting
6 ounces semisweet chocolate, chopped
1 cup unsalted butter (2 sticks), room temperature
3 cups powdered sugar, sifted
1 pinch salt
1 tsp vanilla extract
1/2 cup sour cream