Gluten Free Air Fryer Chicken Nuggets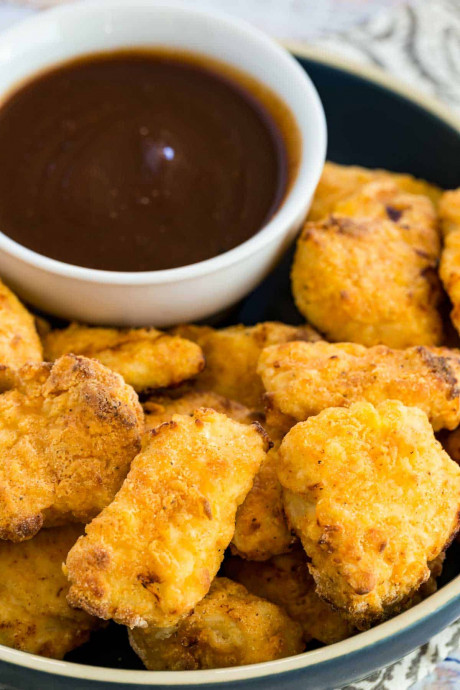 With minimal prep work and only 10 minutes of cooking time, crispy Air Fryer Chicken Nuggets are an easy gluten-free dinner, 100% kid-approved! This recipe for tasty and healthy nuggets isn't just as good as fast food, it's so much better!
My homemade chicken nuggets are one of my best air fryer recipes. It's a family favorite, and we love having these easy and delicious, wholesome nuggets for weeknight meals or even as a snack. The recipe takes literal minutes in the air fryer! The result is the most flavorful and crispy gluten-free chicken nuggets that are, IMO, so much better than the fast food variety.
This recipe marinates the chicken in a Greek yogurt mixture, for chicken bites that are deliciously tender and juicy. Coated in gluten-free flour that's been seasoned to perfection, and air fried until golden and crispy, I'm convinced these are the best ever homemade chicken nuggets!
Ingredients:
1 lb boneless, skinless chicken breasts cut into 1-1 ½ inch chunks
1/2 cup milk
1/4 cup plain Greek yogurt
3/4 cup gluten free all-purpose flour or 1-to-1 flour
1 tsp Kosher salt
1/4 tsp ground black pepper
1 tsp smoked paprika
1/4 tsp garlic powder
1/2 tsp onion powder
1 egg
cooking oil (Oil in a mister bottle for spraying or cooking spray)