Beet and Wild Rice Salad with Spiced Pecans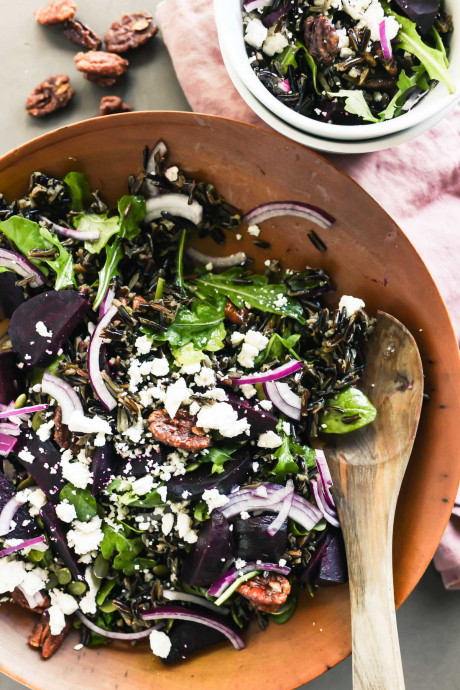 My beet and wild rice salad with spiced pecans goes from packable lunch to holiday table without missing a beat! This superfood salad is not only super healthy, it's super delish.
This delicious salad earns a place on your table because it's full of fiber, vitamins, minerals, anti-inflammatories, and antioxidants. It's pretty, too, and the ingredients are pitch perfect for the season, so consider adding it to your holiday menu plans. Grain and rice based salads are also great for stashing in the fridge for quick healthy lunches ~ they last and last, keeping their chewy texture and crunch for days. This one is no exception. The satisfaction factor with the buttery beets and the earthy wild rice is off the charts!
Ingredients:
2 medium beets, roasted or boiled, peeled, and diced or sliced in small wedges.
4 cups cooked wild rice
2 handfuls of baby arugula
1/3 cup thinly sliced red onion
2-3 Tbsp pepitas
1/3 cup feta cheese crumbles