Pumpkin Spice Latte Overnight Oats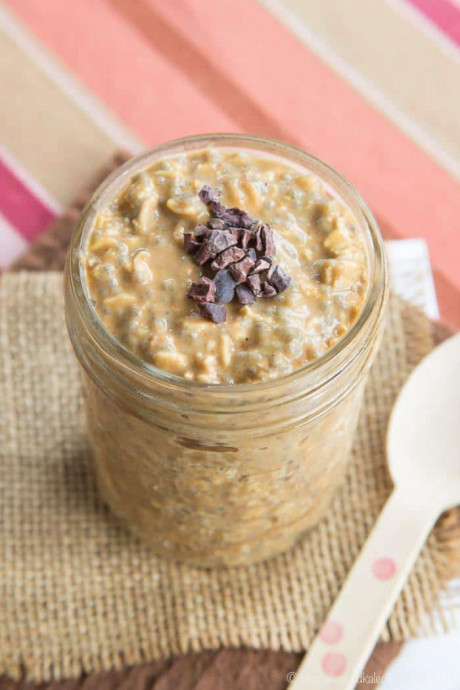 These aren't your basic pumpkin overnight oats. They are Pumpkin Spice Latte Overnight Oats! It's an easy way to get your PSL fix in a satisfying and healthy breakfast you can make ahead! Packed with pumpkin, whole grain oats, and a caffeine kick from real coffee plus the perfect amount of pumpkin pie spice, it's one of my favorite pumpkin recipes.
Pumpkin truly tastes best when accompanied with pumpkin pie spice, with the warm flavors of cinnamon and nutmeg and their comforting aromas enhancing the earthy, natural sweetness of the pumpkin. But there is something about the slight smokiness of coffee that truly adds to this combination as well.
This easy pumpkin overnight oats recipe has everything you love about a pumpkin spice latte and it's also a healthy breakfast idea. It has a caffeinated kick from the coffee, heart-healthy nutrients from the oats, and pumpkin pie spice. It's creamy, satisfying and good for you too! This easy meal prep breakfast is made with real pumpkin and tastes like a Starbucks PSL!
Ingredients:
1/4 cup brewed coffee, chilled
1/4 cup milk I use Silk Unsweetened Almond Milk
2 Tablespoons plain Greek yogurt
1/4 cup pumpkin puree not pumpkin pie filling
1 teaspoon pumpkin pie spice
1/2 teaspoon vanilla
2 1/2 teaspoons sugar or equivalent amount of honey, stevia, or sweetener of choice
1 Tablespoon chia seeds
1/2 cup old fashioned oats gluten free, if necessary
1 teaspoon mini chocolate chips cacao nibs, or pepitas, optional
Additional milk if needed