Rice Salad With Nuts and Sour Cherries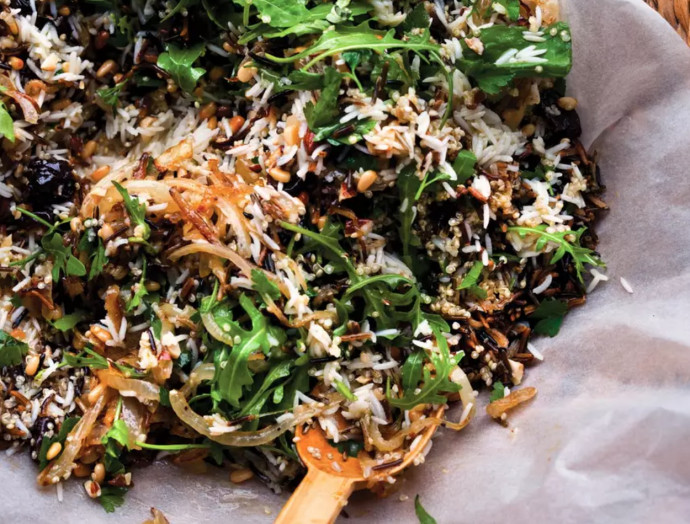 The mix of grains—white basmati rice, wild rice, and quinoa—is beautiful and texturally interesting; per his cooking times and methods, they are left with just a bit of firmness and keep their integrity once dressed. Almonds and pine nuts add toasty crunch, while dried sour cherries add chew and bursts of tart sweetness.
Fry onions, so that parts of the onion get crisp and others just soft, and they weave themselves silkily through the salad. There's just enough verdant, spicy arugula to brighten things up, and the fresh licorice flavors of basil and tarragon perfume the mix. Tossed with lemony, garlicky dressing, every bite is fairly dazzling.
Ingredients:
Scant 1 cup (150g) wild rice
Scant 1 1/4 cups (220g) basmati rice
5 1/2 tablespoons (80ml) olive oil
2/3 cup (100g) quinoa
6 1/2 tbsp (60g) almonds, skins on, coarsely chopped
7 tbsp (60g) pine nuts
1/4 cup (60ml) sunflower oil
2 medium onions, thinly sliced (about 3 cups; 320g)
1 cup (30g) flat-leaf parsley leaves, coarsely chopped
2/3 cup (20g) basil leaves, coarsely chopped
1/3 cup (10g) tarragon leaves, coarsely chopped
2 cups (40g) arugula
2/3 cup (80g) dried sour cherries
1/4 cup (60ml) lemon juice, plus the grated zest of 1 lemon
2 cloves garlic, crushed
Salt and black pepper