Beet and Wheat Berry Salad With Pickled Apples and Pecans Recipe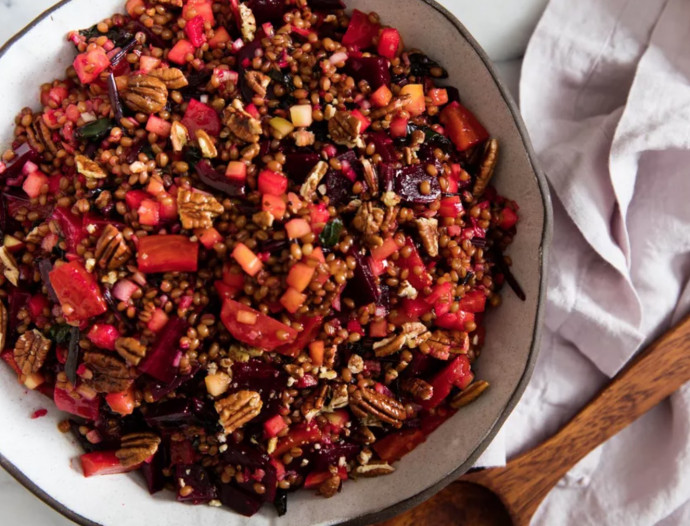 The key to make-ahead salads like this one is to use ingredients that can hold their shape and freshness over time. That means lettuces are out. In this hearty option, we combine chewy whole red winter wheat, roasted beets and their sautéed greens, pickled apples, and toasted pecans. It's a perfect, filling vegetarian option for autumn and winter tables.
Using both the beet roots and their greens gets the most out of the vegetable.
A salted vinegar brine not only gives the apples a tart kick that wakes this salad up big time, it also prevents them from browning.
Ingredients:
1 1/2 cups whole red winter wheat berries or other whole grain (12 ounces; 340g) (see note)
Kosher salt
3 1/2 pounds (1.5kg) beet roots with their greens, roots and leafy stalks separated, 8 ounces' (225g) worth of leaves and stalks washed and chopped coarsely, remainder reserved for another use (see note)
1 tablespoon (15ml) extra-virgin olive oil, plus more for drizzling
2 medium cloves garlic, minced
1 cup white wine vinegar (8 ounces; 235ml)
2 tablespoons (25g) sugar
2 sprigs tarragon
3/4 pound (340g) very crisp apples, such as Honeycrisps, cored and diced
4 medium shallots, minced (6 ounces; 170g)
1 1/2 cups pecans (6 ounces; 170g), toasted and roughly crumbled
1 recipe Simple Vinaigrette