Biscuits and Sausage Gravy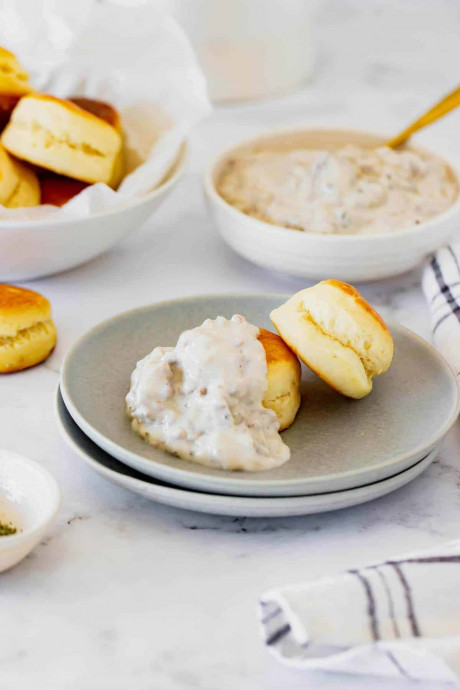 Whenever someone mentions comfort food, my mind goes to biscuits and gravy. It just doesn't get any better than a flaky biscuit with a flavorful sausage gravy on top! This recipe is yummy enough to become a tradition to treat mom on Mother's Day, for Christmas morning breakfast, or, crazy as it sounds, even Thanksgiving dinners. Perfect for family celebrations all year long. It's also easy enough to be a simple addition to your weekly dinner rotation! Soft, fluffy buttermilk biscuits are covered in a savory sausage gravy in this easy Biscuits and Gravy recipe. This classic dish is the ultimate brunch comfort food. But it can even be a great side for everyday dinners or festive holiday meals, and it's also gluten-free!
I love how quickly this dish comes together. The biscuits bake up in about 10 minutes, and the gravy simmers to perfection on the stove in no time. These gravy-covered biscuits are also super quick to disappear from the plate!
Ingredients:
8-10 gluten-free biscuits
2 teaspoons olive oil
1 lb pork breakfast sausage, removed from the casings if using links
6 Tablespoon 1:1 gluten-free flour
1/2 teaspoon dried thyme
1/2 teaspoon garlic powder
1/4 teaspoon onion powder
1 teaspoon black pepper
1 teaspoon salt
3 cups whole milk