Banana Cake with Cream Cheese Frosting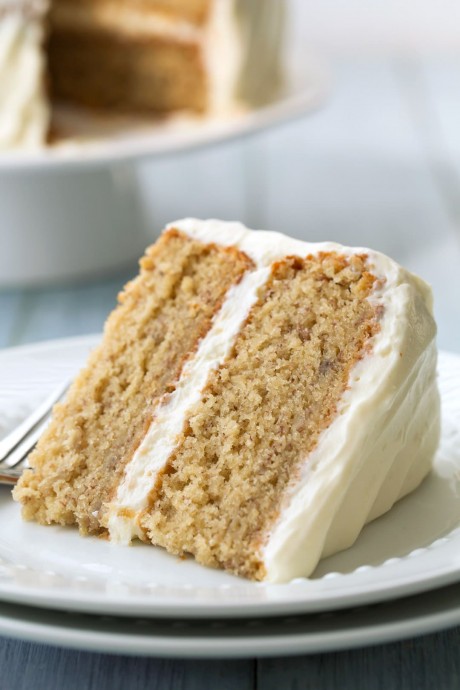 This easy banana cake recipe tastes just like banana bread, but in cake form with the delicious addition of a light and tangy homemade cream cheese frosting…yes, I definitely accept! You are going to want to eat this frosting by the spoonful.
Banana bread has always been one of my favorite desserts/snacks/breakfasts since I was little, so when I finally tried it in cake form many years ago it was a given that I was going to be hooked. I mean, I still have a hard time resisting a piece of this first thing in the morning. Leave the frosting off and it does make a perfect weekend breakfast. I love this banana cake with cream cheese frosting so much that I've made it twice in one week, and both times it disappeared in no time!
This homemade banana cake should be fine to freeze. Ideally, you should freeze the banana cake frosting in a separate container. A double layered, moist and flavorful banana cake topped with rich and luscious, fluffy cream cheese frosting. It's the perfect use for those overripe bananas sitting on the counter. Everyone will love this cake!
Ingredients:
3 cups (425g) all-purpose flour (scoop and level to measure)
1 tsp baking soda
1/2 tsp salt
1 1/2 cups (368g) mashed overripe bananas (from about 4 medium bananas)
1 tsp lemon juice
1/2 cup (113g) unsalted butter, softened
1/4 cup (60ml) vegetable oil
1 cup (200g) granulated sugar
1/2 cup (100g) packed light-brown sugar
3 large eggs
1 tsp vanilla extract
1 1/2 cups (350 ml) buttermilk
1 1/4 cups (295ml) heavy cream
14 oz cream cheese, nearly at room temperature
1/3 cup (74g) unsalted butter, nearly at room temperature
1 3/4 cup (210g) powdered sugar
1/2 tsp vanilla extract