Nutty Maple Granola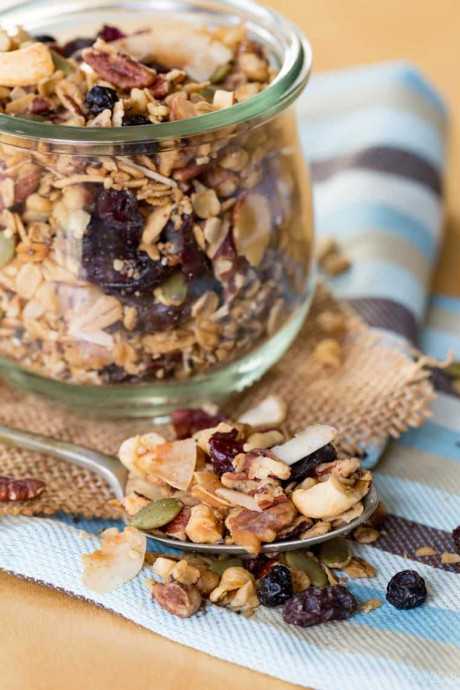 Gluten-free granola is not always easy to find in stores! When I found out about my wheat allergy, I realized that packaged granola often contains things like wheat and barley flakes, or even wheat germ.
So that is why I came up with this recipe. If you are sensitive, you'll need to use certified gluten-free oats. And always check that your ingredients are not at risk of cross-contamination, as sometimes things like nuts and seeds can be processed in facilities that handle gluten ingredients.
But in general, all of the ingredients here are naturally gluten free. Since you can use whatever you have in the pantry, you'll find yourself making this granola all the time. It makes a great breakfast or snack with milk or sprinkled over some yogurt if you can keep yourself from eating it by the handful.
Unlike storebought ones that have a ton of "filler", this one is packed with has a pretty high ratio of nuts and seeds to oats, a good amount of dried fruit, and just the right amount of sweetness. This means it is packed with protein and healthy fats to make it very satisfying.
You can use whatever nuts and seeds you have on hand, and that also ensures you get a wide variety of nutritional benefits, like omega 3's, Vitamin A, and Vitamin E.
Ingredients:
3 cup oats (gluten free, if needed)
3 cups nuts (any combination of raw walnuts, pecans, pistachios, etc.)
1/2 cup sliced almonds
1/4 cup chia seeds
1/4 cup sesame seeds (or more chia seeds)
1/2 cup raw pumpkin seeds (aka pepitas)
1 cup unsweetened coconut flakes
1/4 cup water
1/4 cup olive oil
1/2 cup real maple syrup
1 teaspoon cinnamon
1 teaspoon vanilla extract
1 teaspoon kosher salt
1 1/2 cup dried fruit I like equal parts (any combination of raisins, dried cranberries, dried blueberries, dried cherries, etc.)